Your Reviews About the World
MyWorldReviews.com
Let the world know what you think
Rendez Vous in the Ramses Hilton Annex
Cairo, Cairo, Egypt
Overall Experience:
7 / 10
Date Visited:
Wednesday, February 27, 2008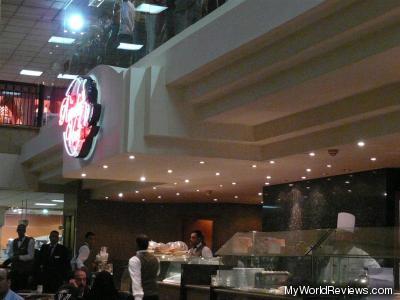 Rendez Vous is a restaurant located in the annex, just across the street from the Ramses Hilton. We ate there a number of times during our stay in Cairo, probably because the food was of pretty good quality, and also very affordable.
The restaurant offers both sit-down and take away service, but we only ordered take away, since everyone in the seating area smokes, and the area stinks. We placed our order at the cash register near the back, and paid there. We then received a pink piece of paper with our order on it, which we took to the "pick up" area of the counter, and handed it to one of the cooks there. A few minutes later, our order was ready, and we took it away with us.
Items Ordered
Tamia Sandwich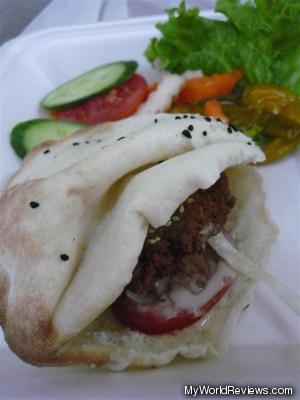 Tamia Sandwich
Cost:
5 LE (approximately $0.90)
By far, our favorite thing to order was the Tamia Sandwich. They're an Egyptian version of a falafel sandwich, with the falafel squished, so it's more like a falafel sandwich, and it takes up most of the pita. The pita also contains some lettuce, tomato, and tahini. The tamia sandwich is served with pickled items and some other veggies on the side that you can put in your pita, if you like. It's a fairly small sandwich, and you may need a couple to fill you up, but it's still great value!
review contents
Items Ordered
Tamia Sandwich
related reviews
More reviews in Cairo, Cairo
Been here? Want to write your own review of this restaurant?
linked reviews