Your Reviews About the World
MyWorldReviews.com
Let the world know what you think
Red Door Spa
New York, New York, United States
691 Fifth Ave
New York, New York, United States
10022
212-546-0200
reddoorspas.com
View Map
Overall Experience:
5 / 10
Start Date:
Sunday, September 14, 2008
Red Door Spas by Elizabeth Arden are located on 5th Ave and 54th street in Manhattan. They offer a variety of spa treatments including massages. This visit was for a couples classic 50 minute massage.
Couples Massage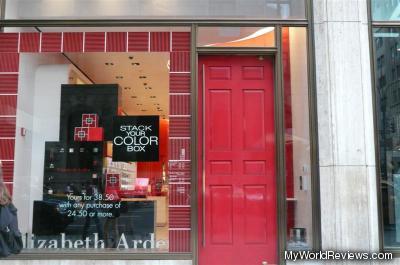 After arriving at the spa, we were each directed to the appropriate change room. The women's change room had several stalls with a curtain for privacy, although my curtain wouldn't close all the way. The men's change room was just one room. After changing into a robe we sat in the relaxation room where we filled in and signed a waiver. The relaxation room also had some water, juice, and veggie chips. The women's relaxation room was quite large with lots of couches and chairs. The men's relaxation room was much smaller with only a couple of chairs (but also included a TV). We were able to sit together in the men's lounge which was otherwise empty.
We were taken by each of our masseuses to the massage room. The couples room was just two separate rooms with a wall that opened between them. Our tables were far apart so we were pretty disconnected from each other. I suppose that's ok since you're suppose to relax during a massage and not talk. The massage room was a very plain basic room with a comfortable massage table.
The massage itself was pretty average. I find in a general body massage you never get enough time on the areas where you are really tense. Some places give you the option to customize your massage by specifying areas of focus. We were not offered this option here. I have had better massages at other places that were much cheaper. However, my muscles were feeling relaxed and limber afterwards.
Cost
We both felt the massage was very overpriced. The basic 50 minute massage was $105 per person. This is more than we've paid for any massage, but it was no better. The spa itself didn't really give any extra special spa experience either. We didn't feel that we were getting any extra value for the money.
review contents
Couples Massage
Cost
related reviews
More reviews in New York, NY
Been here? Want to write your own review of this Spa?