Your Reviews About the World
MyWorldReviews.com
Let the world know what you think
Radio City Christmas Spectacular
New York, New York, United States
1260 6th Ave
New York, New York, United States
10020
212-307-7171
www.radiocity.com
View Map
Overall Experience:
7 / 10
Date Visited:
Sunday, December 7, 2008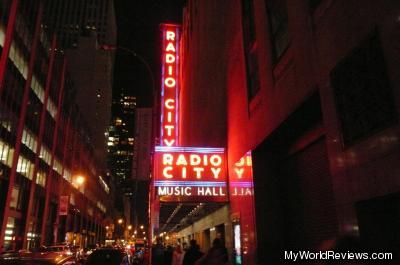 Radio City Music Hall
The Radio City Christmas Spectacular is a holiday show put on at the Radio City Music Hall during the months of November and December. Every year the show is a bit different, but always features the Rockettes - a large group of precision dancers (36 at our show). The show is a mish-mash of numbers with a holiday theme that feature singing, dancing and other visually appealing tricks. Our show included a 3D video, for which every member in the audience was given disposable 3D glasses.
The show was a lot of fun. There was no story to it, it was just a mix of fun and funny pieces. Some pieces were more "spectacular" than others. There were some neat effects. It was a great way to get into the holiday spirit, with festive music and visuals.
Show Length
The show lasted 1.5 hours. The theater is quite large, so it takes a while to fill. Before the start of the show, while people are taking their seats, there were two pipe organ players playing some music.
Cost and additional information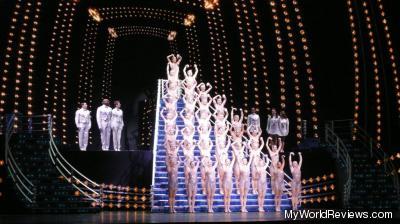 The Rockettes in the Radio City Christmas Spectacular
Tickets cost around $120 depending on where you are sitting. Half price discount tickets were available for some of the shows early in the season.
Most people were dressed casual for the show.
The Radio City Music Hall is big, but is also equipped with large bathrooms (something that is lacking most places in NYC).
review contents
Show Length
Cost and additional information
related reviews
More reviews in New York, NY
Been here? Want to write your own review of this live show?