Your Reviews About the World
MyWorldReviews.com
Let the world know what you think
Pyramid Sound and Light Show
Giza, Giza, Egypt
Overall Experience:
7 / 10
Date Visited:
Tuesday, February 26, 2008
The great pyramid lit up in red
The Sound and Light Show at the Giza Pyramids is a narrated story about the history of the pyramids. Much of the audio was pretty cheesy, but seeing the pyramids lit up at night time was a fantastic experience! The pyramids were lit up in a number of different colors - red, green, blue, and white. The audio presentation is offered in a number of different languages at different times during the evening. I thought it was odd how during the English performance, rather than having a "normal" narration, they decided to make the ancient Egyptians speak old English (using words like "thou" and "hast").
At a couple parts during the light show, lasers are used to draw designs on the pyramids - I thought that was a neat effect. Otherwise, just seeing the pyramids lit up is pretty neat!
The best view for the sound and light show is in the front row (so people don't obstruct your view). Seating at the right side of the seating area (the north; right in front of the sphinx) is probably the best place to view the show, since you get a clear view of the sphinx and all three pyramids. ...but if you're not able to sit there, most of the seating area does offer a pretty good view.
If you are able to get to the show early, there is a small band playing at the front of the seating area that plays drums and bagpipes. I thought that was neat.
Dress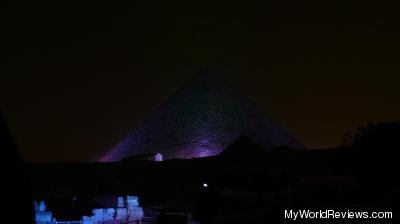 The great pyramid lit up in blue, with a laser effect on the front
The show is outdoors - dress appropriately for the heat or cold (it gets pretty cold at night in the winter). Shorts and a t-shirt are fine.
Cost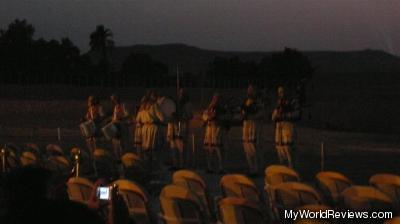 The pre-show band
We visited the sound and light show as an optional excursion on Trafalgar's Best of Egypt Tour. The excursion cost us $28 USD per person. However, admission to just the sound and light show at the pyramids only costs 75 LE per person. Still cameras are permitted, but video cameras cost an extra 35 LE per camera.
Estimated Visiting Time
The show lasts for 45-50 minutes.
review contents
Dress
Cost
Estimated Visiting Time
related reviews
More reviews in Giza, Giza
Been here? Want to write your own review of this attraction?
linked reviews
Trafalgar Tour - Best of Egypt