Your Reviews About the World
MyWorldReviews.com
Let the world know what you think
Pumpkin Sail
New York, New York, United States
Harlem Meer
New York, New York, United States
centralparknyc.org
View Map
Overall Experience:
6 / 10
Date Visited:
Sunday, October 26, 2008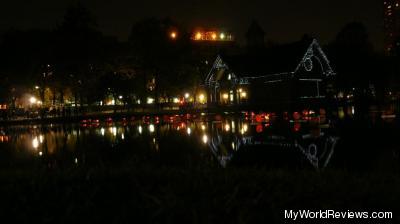 Pumpkin Sail at the Harlem Meer
The Central Park Conservancy was holding the "Pumpkin Sail" event on the Sunday before halloween. Attendees were invited to bring their own carved pumpkins at 7pm, light them with candles, put them on pieces of styrofoam (I think these are provided), and then float them on the Harlem Meer.
We arrived around 7:30pm, but still had a great view of all the glowing pumpkins floating on the Meer. It was a pretty neat sight, and I was glad I went to see it.
There were quite a few people in the area, and most of them were kids. There were also some vendors and people selling items (such as glow sticks) to all the visitors in the area.
related reviews
More reviews in New York, NY
Been here? Want to write your own review of this attraction?