Your Reviews About the World
MyWorldReviews.com
Let the world know what you think
Pound & Pence
New York, New York, United States
55 Liberty St
New York, New York, United States
10005
(212) 716-1140
poundandpence.com
View Map
Overall Experience:
4 / 10
Date Visited:
Friday, December 9, 2011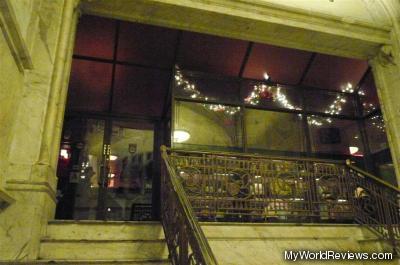 Pound & Pence inside 55 Liberty St
Pound & Pence is a bar that is tucked away inside the lobby of 55 Liberty St. We almost didn't find the place as you have to go past a security guard through a small revolving door and walk up the stairs of a marble lobby to an unmarked room. The bar has a classy rowdiness feel to it. The dark wooden tables are accompanied by large cushioned armchairs and the room is decorated with dark wood, old books and a fireplace. I loved the feel of the place, but the food was terrible. I would recommend coming here for a drink to experience the atmosphere and continue elsewhere for dinner.
Dress
Casual
Cost
Entrees were around $15.
Reservations
There were plenty of tables open on a Friday evening.
Items Ordered
The Pound & Pence Burger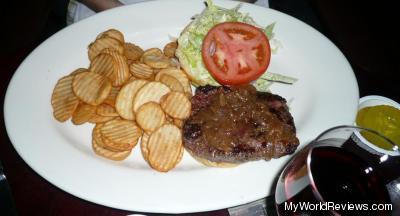 The Pound & Pence Burger
10oz certified Angus Beef steak burger with cottage fries + 99 cents for mushrooms, cheese, or caramelized onions
The burger was actually pretty decent. It had a nice sauce on it, which made it messy but taste good. It was ordered well done, but it was served medium. The fries were very plain tasting. Fortunately, they served salt, pepper and ketchup. ...but I didn't realize it was possible for potatoes to taste so bland.
English Beef Stew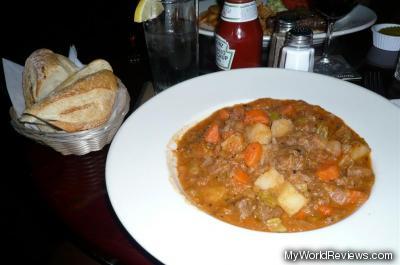 English Beef Stew
with potatoes, baby carrots, and toasted bread
The stew was not very good. It was incredibly salty and had a funny taste to it. I'm guessing that they may have made it six months ago and froze it in individual-sized portions that they took our and heated up when someone ordered it. The bread that was served with it was a very dry plain white bread.
review contents
Dress
Cost
Reservations
Items Ordered
The Pound & Pence Burger
English Beef Stew
related reviews
More reviews in New York, NY
Been here? Want to write your own review of this restaurant?