Your Reviews About the World
MyWorldReviews.com
Let the world know what you think
Portage Bay Cafe
Seattle, Washington, United States
391 Terry Ave N
Seattle, Washington, United States
98109
206-462-6400
portagebaycafe.com
View Map
Overall Experience:
8 / 10
Date Visited:
Saturday, November 27, 2010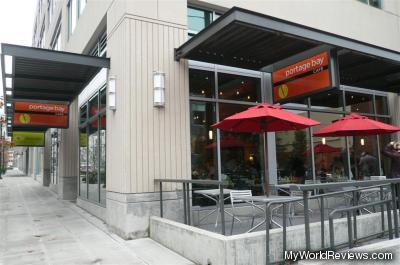 Portage Bay Cafe
Cuisine:
Breakfast & Brunch
Portage Bay Cafe is a breakfast restaurant with a couple of locations in the Seattle area. We visited the South Lake Union location, and I was quite impressed. It's one of the best breakfast places I have been to. Their menu had a great selection of sweet and savory items, and all of them looked fantastic. Many of their items come with a trip to the "toppings bar" where you can load up your breakfast with fruit, nuts, and whipping cream.
Dress
Fairly casual
Cost
Most entrees were around $10-$16.
Service
There was nothing special or noteworthy about the service or atmosphere.
Reservations
It was quite busy when we arrived with a wait time of around 15-20 minutes. I don't know if they take reservations, but it might be a good idea if you plan on arriving around peak time (between 10-11am on saturday/sunday)
Items Ordered
Specialty Hashes - Pepper Bacon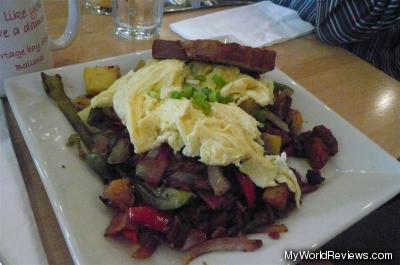 Specialty Hashes - Pepper Bacon
Grilled organic vegetables including: red onion, bell peppers, red potatoes, sweet potatoes, fresh herbs and garnished with green onion. Topped with three scrambled eggs and served with a slice of homemade organic whole wheat toast.
Most restaurant omelettes are mostly egg with a couple small pieces of meat/vegetable thrown in to add some color. This specialty hash is exactly like I would have made it at home - with tons of veggies and meat. It was delicious, and for only $13, very reasonably priced.
French Toast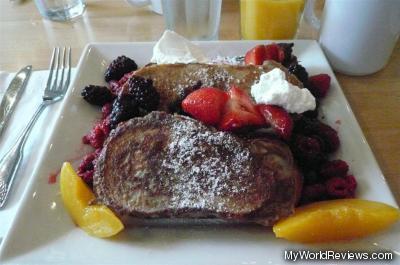 French Toast
Three slices of homemade challah bread are dipped in our vanilla egg batter and grilled. Includes a trip to our toppings bar where you will find fruits, nuts, butter, organic maple syrup from Stannard Farm in Vermont.
The french toast was served bare, with just three pieces of french toast on the plate and a dusting of icing sugar. This picture was taken after visiting the Topping Bar. The toppings bar was great because you could choose whatever toppings (and however many of them) that you wanted. The berries were frozen, and the peaches were canned, only the strawberries were fresh, but all were still tasty on the french toast.
review contents
Dress
Cost
Service
Reservations
Items Ordered
Specialty Hashes - Pepper Bacon
French Toast
related reviews
More reviews in Seattle, WA
Been here? Want to write your own review of this restaurant?