Your Reviews About the World
MyWorldReviews.com
Let the world know what you think
Pop Pub
New York, New York, United States
83 University Place
New York, New York, United States
10003
(212) 477-7574
www.popburger.com
View Map
Overall Experience:
6 / 10
Date Visited:
Friday, February 1, 2013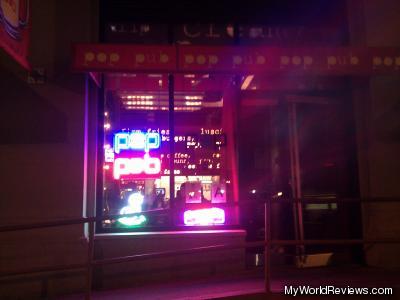 Pop Pub on University Place
Pop Burger Pub is an upscale burger joint. It's a mix between a trendy bar and a burger place. They served slider sized burgers of a few different types and other bar food. It was dimly lit inside and tables had little tealight candles on them, and the counter where takeout orders were placed had an eye-catching design.
Dress
Casual
Cost
$12 for 3 sliders
Service
I was confused by the large takeout window right when you enter - it looked like that was the place to order your food, but the restaurant offers table service if you're looking to stay.
Reservations
It was not very busy around 7pm on a Friday night - there were plenty of open tables.
Items Ordered
Pop Burger and side of Onion Rings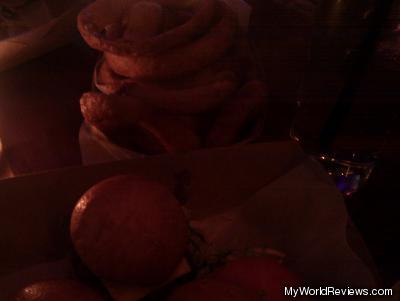 Pop Burgers and Onion Rings
The classic burgers came with lettuce, tomato, and their signature sauce. They were 3 small burgers that added up to a decent size. The bun was a sweet brioche bun.
Despite being small, the sliders were still just as messy as a regular burger (if not messier).
The side of onion rings was fairly large and could easily be shared between 2 to 3 people.
Gobble Gobble and side of pickles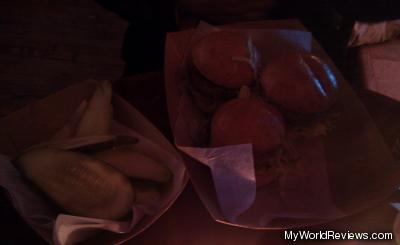 Gobble Gobble and Side of pickles
The Gobble Gobble was the same as the classic pop burger but with turkey meat instead of beef. They were also pretty good burgers. The side of pickles was also a fairly large side.
review contents
Dress
Cost
Service
Reservations
Items Ordered
Pop Burger and side of Onion Rings
Gobble Gobble and side of pickles
related reviews
More reviews in New York, NY
Been here? Want to write your own review of this restaurant?