Your Reviews About the World
MyWorldReviews.com
Let the world know what you think
Polonia
New York, New York, United States
110 1st Ave
New York, New York, United States
10009
212-254-9699
View Map
Overall Experience:
4 / 10
Date Visited:
Saturday, August 1, 2009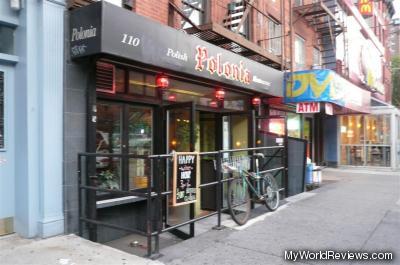 Polonia
Polonia is a Polish restaurant located in the lower east side of Manhattan. I was a bit disappointed with the restaurant. Things were a bit more bland than they should have been. It is certainly not among the best Polish food I've had.
Dress
Very casual
Cost
Quite cheap - a full meal can be had for just over $10.
Reservations
Not necessary. We arrived around 6pm on a weekend, and the restaurant was mostly empty.
Items Ordered
Vegetarian Combo Platter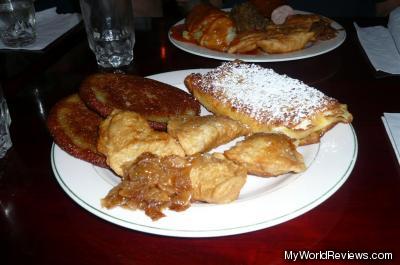 Vegetarian Combo Platter
blintz, 2 pcs potato pancakes & 4 pierogis
The pierogis and potato pancakes were pretty similar. I felt this combo dish was lacking vegetables. The potato pancakes were pretty good - it's hard to go wrong with deep fried potatoes. There were a number of filling choices available for the blintz - I choose cheese and jam, and ate it for dessert. It was pretty good.
Combination Platter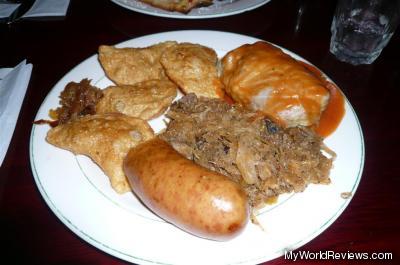 Combination Platter
bigos, kielbasa, stuffed cabbage & 4 pierogis
I think the most disappointing thing about this combination platter was the kielbasa. It was just like a typical sausage. It didn't have any of the usual deliciousness that a hot kielbasa usually has.
Otherwise, everything was OK. The pierogis were ordered deep fried, and were adequate. The cabbage roll was a bit bland.
review contents
Dress
Cost
Reservations
Items Ordered
Vegetarian Combo Platter
Combination Platter
related reviews
More reviews in New York, NY
Been here? Want to write your own review of this restaurant?