Your Reviews About the World
MyWorldReviews.com
Let the world know what you think
Plataforma Churrascaria
New York, New York, United States
316 W 49th Street
New York, New York, United States
10019
212-265-5035
churrascariaplataforma.com
View Map
Overall Experience:
7 / 10
Date Visited:
Friday, December 19, 2008
Plataforma Churrascaria
Cuisine:
Brazilian Steakhouse
Plataforma Churrascaria is a Brazilian steakhouse located in New York City on 49th street, between 8th and 9th avenues. They offer a fixed-price dinner with all-you-can-eat meats, sides, and salad. It's not the cheapest place around, but if you love meat, then this is definitely a place for you. The restaurant offers between 10-15 different types of meat. Each member of our group had their favorite meat choices - some of them were great, and some were just ok.
There's definitely the ability to eat a lot of meat here, although the restaurant also offers some sides and an extensive salad bar.
Dress
Business casual. Some people were wearing suits, but nice jeans didn't feel out of place.
Cost
The fixed price dinner is around $57/person. Dessert is available for an additional cost.
Service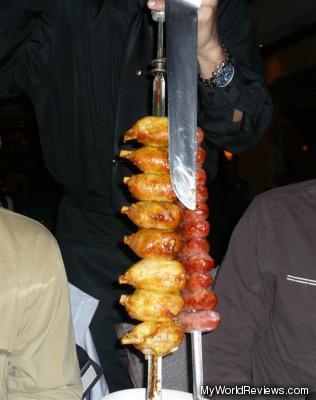 One of the servers with a meat selection
The service is one of the most interesting things about Plataforma Churrascaria. Waiters are constantly walking around the restaurant carrying different cuts of meat on large skewers or platforms. Each guest has a cardboard card - one side of the card is green, and the other is red. If your card is showing green, the servers carrying the meat will tell you what type of meat they have, and ask you if you would like some. It's similar to a buffet, but rather than having to get up, the food comes to you.
If your card is green, and you turn down a meat, the servers will ask you if there's something in particular you're looking for. If there is, we found that they went back to the kitchen to find that product and bring it out for you.
Reservations
Reservations are recommended.
The Meats
The meats are definitely the main reason for visiting Plataforma Churrascaria. The restaurant offers chicken, turkey, pork, seafood, and many different types of beef. The selection is very extensive, and even if you only try a little bit of each type of meat, you will likely be full after trying it all.
The Salad Bar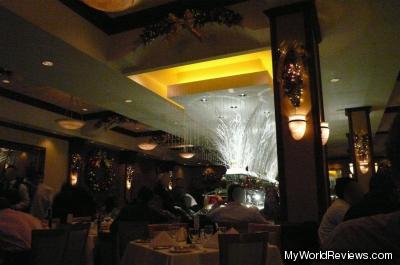 Inside Plataforma Churrascaria
The salad bar at Plataforma Churrascaria is fairly large. It's located in the middle of the restaurant. The salad bar has a selection of seafood, salads, and sushi. The restaurant recommends that you visit the salad bar before starting with the meat course, but it's entirely up to you if you want to visit the salad bar before or after you start with the meats.
The Sides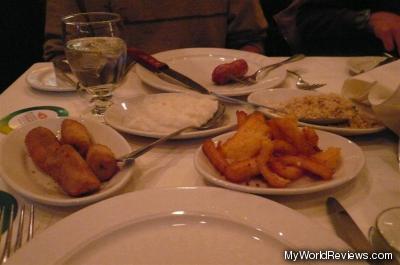 Included Sides
In addition to the salad bar, each table is presented with a selection of side dishes. We had fried bananas, broccoli (not shown in this picture), mashed potatoes, and fried cornmeal. Many of the sides were quite salty, but the fried bananas were absolutely delicious.
Each time one of the trays of sides is empty, the servers will ask if you would like more. Our group probably consumed four trays of bananas.
review contents
Dress
Cost
Service
Reservations
The Meats
The Salad Bar
The Sides
related reviews
More reviews in New York, NY
Been here? Want to write your own review of this restaurant?