Your Reviews About the World
MyWorldReviews.com
Let the world know what you think
Pipa
New York, New York, United States
38E 19th St
New York, New York, United States
10003
212-677-2233
View Map
Overall Experience:
7 / 10
Date Visited:
Saturday, November 21, 2009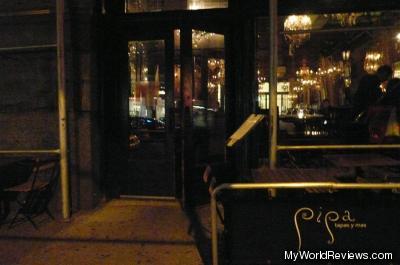 Pipa Spanish Tapas Restaurant
Seating:
Indoor Dining Room
Pipa is a Spanish Tapas restaurant near Union Square in Manhattan. It has a unique interior decor. Being connected with the ABC Carpet & Home store, the ceiling is covered in fancy glass chandeliers. It gave the restaurant a Victorian feel. For dinner, we found it extra dark inside, and had difficulty reading the menu without a flash light.
The food is tapas style - all the items are very small. It is most fun to order several items to share with your group. We ordered 7 items for 4 people. We were all satisfied, but not stuffed, and were hungry again after a few hours. I would suggest 2-3 items per person depending on how hungry you are. I found the quality of the food to be very good. There were many unique and delicious flavors.
Dress
Smart casual - jeans and a nice shirt are fine, although some people were a little more dressed up.
Cost
Most items are around $10-$15. After tax and tip and a vessel of sangria, we paid about $35 per person.
Service
The service was fairly fast. The items were brought out a few at a time. We did have one of our items brought with a different meat than what we had ordered, but we didn't say anything.
Reservations
They do take reservations. We did not have reservations and were seated at the last available table around 6:30pm on a Saturday evening.
Items Ordered
Catalan Flat Bread - Vegetales
Chorizos and Vegetales Flatbread
roasted eggplant puree, roasted red peppers, tomato, corn, broccoli, cabra cheese
This flat bread was delicious. It was covered in roasted vegetables, and the cheese on top was soft and creamy tasting.
Chorizos Chiquitos
white wine, olive oil, garlic
These little sausages were delicious - some of the best chorizos I've had. They were just a little bit spicy. The Chorizos are pictured above with the flat bread.
Plate of 3 Cheese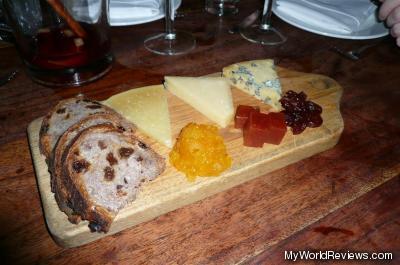 Plate of 3 Cheeses
Garrotxa (Catalonia, Spain) pasteurized goat milk, yogurty flavor, dense, moist, aged 2 years. Aged Manchego, Don Juan (La Mancha, Spain) pasteurized sheep, dense, smooth, nutty, aged 1 year. Bayley Hazen blue (Jasper hill farm)
Each cheese came with a small bit of jam or preserves. I thought those were delicious too. We asked for more bread, since there wasn't nearly enough bread for the amount of cheese we received. The cheese two non-blue cheeses tasted similar, but very good.
Piggy Back Dates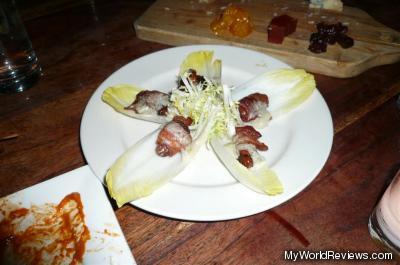 Piggy Back Dates
almond-stuffed, bacon-wrapped dates, endive leaves
This was a love it or hate it item. Our group was split half and half. I think if you like dates and the combination of sweet and savory flavors, you'll love it.
Gambas Al Ajillo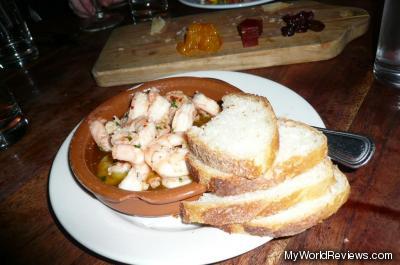 Gambas Al Ajillo
sauteed Ecuadorian shrimp, garlic, chilies
These shrimp were had a nice buttery garlic sauce. They were good, but nothing out of the ordinary.
Skewer
Cost:
$11 for chicken $13 for steak
We had ordered chicken skewers, but received steak skewers. I found the steak skewers to be a bit tough. I don't remember anything that stands out about the sauce.
review contents
Dress
Cost
Service
Reservations
Items Ordered
Catalan Flat Bread - Vegetales
Chorizos Chiquitos
Plate of 3 Cheese
Piggy Back Dates
Gambas Al Ajillo
Skewer
related reviews
More reviews in New York, NY
Been here? Want to write your own review of this restaurant?