Your Reviews About the World
MyWorldReviews.com
Let the world know what you think
Phuket Paradise
Markham, Ontario, Canada
7771 Yonge Street
Markham, Ontario, Canada
L3T 2C4
(905) 482-8788
View Map
Overall Experience:
7 / 10
Date Visited:
Friday, December 30, 2011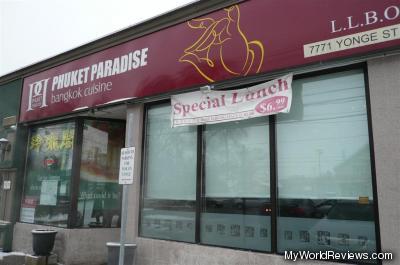 Phuket Paradise
Phuket Paradise is a Thai restaurant located in Markham. It has decent average thai food with cheap prices. Their $6.99 lunch special is a great deal.
Dress
Casual
Cost
Entrees are under $10
Reservations
The restaurant was mostly empty when we visited at lunch.
Items Ordered
Green Mango Salad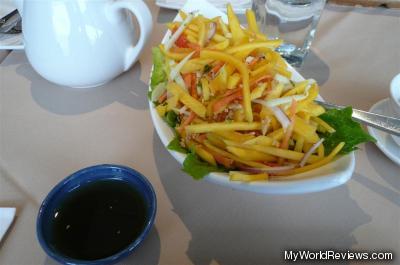 Green Mango Salad
The mango salad was mostly very fresh tasting shredded mango with some shredded carrot, onion, and sprinkled with crushed peanuts. We ordered the sauce on the side - it's a sweet sauce. The salad had a few small pieces of hot pepper in it, but otherwise it was not spicy.
Szechuan Eggplant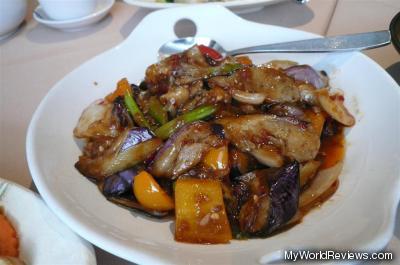 Szechuan Eggplant
The Szechuan eggplant had a really nice sour and spicy sauce. It was not too spicy. The eggplant was cooked to a very soft texture. There were a few other vegetables mixed in too.
Red Curry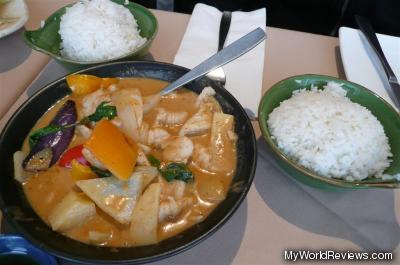 Red Curry
Available with Chicken or Beef
The red curry was ordered as part of the lunch special and came with a spring roll and a bowl of steamed rice. This curry had two (out of three) chilli peppers on the menu, but it was nice and spicy. It was mostly chicken and had hardly any vegetable in it, which was a bit disappointing. The broth part of the curry had a nice coconut flavor.
Cashew Nut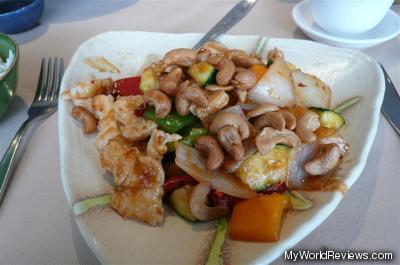 Cashew Nut Chicken
Available with Chicken or Beef
This dish was also ordered as part of the lunch special. It was a pretty good standard dish with all the common ingredients and a nice sauce that's a little bit spicy and sweet. The cashew nut chicken had lots of nuts and chicken, but not too much vegetable.
review contents
Dress
Cost
Reservations
Items Ordered
Green Mango Salad
Szechuan Eggplant
Red Curry
Cashew Nut
related reviews
More reviews in Markham, ON
Been here? Want to write your own review of this restaurant?