Your Reviews About the World
MyWorldReviews.com
Let the world know what you think
Penelope Cafe
New York, New York, United States
159 Lexington Avenue
New York, New York, United States
10016
(212) 481-3800
www.penelopenyc.com
View Map
Overall Experience:
6 / 10
Date Visited:
Saturday, December 11, 2010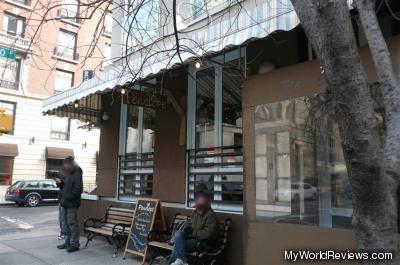 Penelope
Penelope is a small rustic restaurant with mis-matched furniture and a slightly creative comfort food menu. Their brunch offers a choice of entree and an apple cider mimosa or a coffee/juice for a fixed price.
The restaurant is quite popular for brunch and can have a long wait. We arrived around 11am and were told the wait would be about 1 hour and 15 minutes, but then 20 minutes later we were seated.
Dress
Casual
Cost
Brunch is $14.50 for an entree and a drink.
Reservations
They do not take reservations.
Items Ordered
Farmer's Market Omelette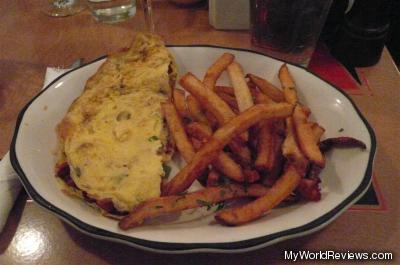 Farmer's Market Omelette
Farm fresh egg omelette filled with your choice of three: mushrooms, onions, tomatoes, peppers, spinach, bacon, ham, sausage, or cheese. Served with homemade french fries.
This was a typical omelette. There was nothing special or different about it. The fries were typical good fries, cut thick and with skins on the ends.
Punkin' Waffles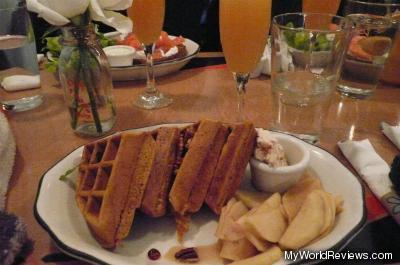 Punkin' Waffles
with appled butter, dried cranberries, toasted cinnamon-cardamom pecans, and warm baked apples.
I was disappointed with the waffles. I thought they were going to be Pumpkin, but they didn't taste it. The baked apple and dried cranberries were new to me, but I liked it as a nice winter alternative to fresh strawberries.
The apple cider mimosa was a nice change from the usual orange mimosa. I found it had a sweeter taste without any bitterness.
review contents
Dress
Cost
Reservations
Items Ordered
Farmer's Market Omelette
Punkin' Waffles
related reviews
More reviews in New York, NY
Been here? Want to write your own review of this restaurant?