Your Reviews About the World
MyWorldReviews.com
Let the world know what you think
Paradiso
Burlington, Ontario, Canada
2041 Pine St.
Burlington, Ontario, Canada
905-639-1176
paradisorestaurant.com
View Map
Overall Experience:
7 / 10
Date Visited:
Saturday, December 27, 2008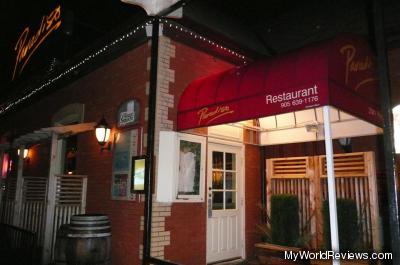 Paradiso Restaurant
Seating:
Indoor dining room
Paradiso is a Mediterranean restaurant (with many Italian options) located in downtown Burlington on Pine street at the corner of Elizabeth. The food is of pretty good quality, and is probably one of the nicer restaurants in Burlington.
When we visited, the restaurant had two people playing guitar while we ate.
Overall we had an enjoyable evening at Paradiso, and wouldn't hesitate to return. The rating was pulled slightly lower by the disappointing chorizo sausage dish.
Dress
Casual - jeans are fine, but some people may be slightly dressed up.
Cost
Appetizers are around $10, and entrees around $20. Many of the items are of decent quality, so this is pretty reasonable.
Service
Nothing note worthy - the service was adequate. The musicians were a nice touch.
Reservations
Probably a good idea - we were able to call an hour ahead, but the restaurant was quite full.
Items Ordered
Bread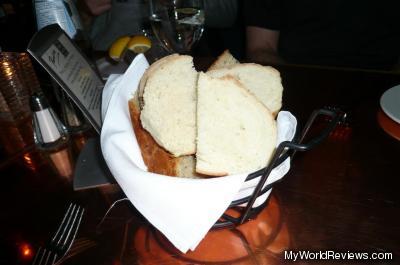 Bread
The bread selection was served with a small dish of oil and balsamic vinegar. The bread basket had two types of bread in it. One was a plain white bread, but the other was a nicely flavored focaccia bread.
Greek Salad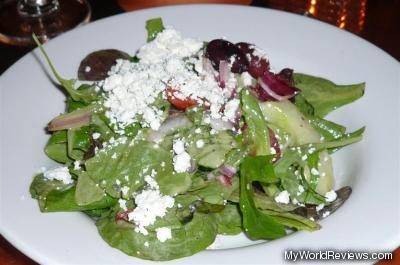 Greek Salad
Mesculin greens, grape tomatoes, cucumber, red onion, kalamata olives, feta cheese, lemon oregano vinaigrette
The best part about this greek salad was the dressing. It was fantastic. It had just the right combination of flavors, and wasn't overly sour or acidic.
The salad itself was a pretty typical salad - it was mostly lettuce, with some other veggies mixed in. It went very well with the dressing.
Chorizo Sausage Penne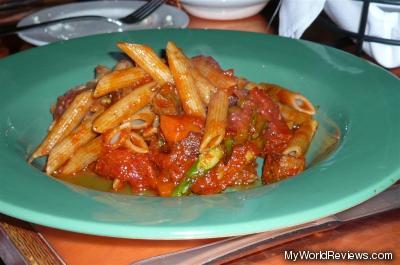 Chorizo Sausage Penne
Chorizo Sausage with asparagus tossed in a rustic red wine and gorgonzola tomato sauce served with whole wheat penne
The Chorizo Sausage Penne was probably the most disappointing dish we tried this evening. It was one of the daily dinner specials, so it's not on the menu all the time. The sausage pieces were big and fat, and just seemed out of place. The tomato sauce was too acidic and I had difficulty eating it.
Butternut Squash Agnolotti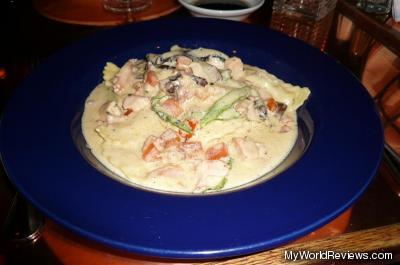 Butternut Squash Agnolotti
Smoked chicken, portobello mushrooms, asparagus, reggiano bechamel
The Butternut Squash Agnolotti was very good - it was very rich and flavorful. Agnolotti is a type of ravioli, and these ones were filled with squash. The agnolotti were very tasty, and went very well with their delicious cream sauce.
The sauce also had a small number of vegetables in it that complemented the agnolotti and the flavorful sauce nicely.
review contents
Dress
Cost
Service
Reservations
Items Ordered
Bread
Greek Salad
Chorizo Sausage Penne
Butternut Squash Agnolotti
related reviews
More reviews in Burlington, ON
Been here? Want to write your own review of this restaurant?