Your Reviews About the World
MyWorldReviews.com
Let the world know what you think
Paprika
New York, New York, United States
110 St. Marks Place
New York, New York, United States
10009
212-677-6563
www.paprikarestaurant.com
View Map
Overall Experience:
6 / 10
Date Visited:
Saturday, June 11, 2011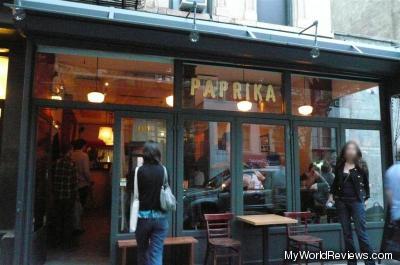 Paprika on St. Marks Place
Paprika is an Italian restaurant on St Marks Place. The menu offered some interesting Italian inspired dishes. The food was all pretty mediocre - one of the appetizers we ordered was pretty good, but everything else was just OK.
Dress
Casual
Cost
Entrees were $15-$25
Reservations
We had reservations but we still had to wait about 10 minutes for a table to free up for us.
Items Ordered
Eggplant Napoleon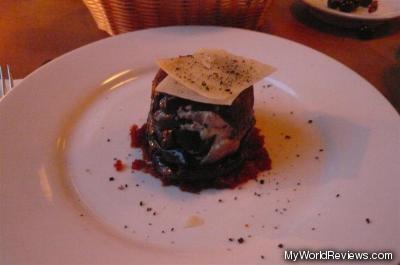 Eggplant Napoleon
Eggplant Napoleon, fresh goat cheese, dried tomatoes, and onion marmalade
This was an novel way to eat an eggplant. It was creamy and reasonably flavorful.
Hand Rolled Potato Gnocchi
Hand Rolled Potato Gnocchi
Hand rolled potato gnocchi, pancetta, kale, and tomatoes
The kale made this a bit of a twist on just plain gnocchi. The gnocchi were soft and a bit chewy, and were fairly average. The kale added a slight kale flavor/texture to the dish, but I would have liked more of it.
Lamb Meatballs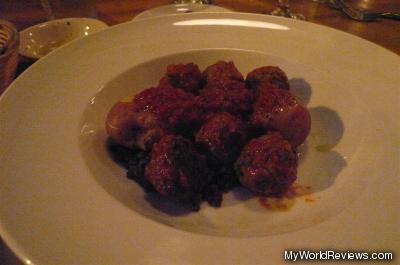 Lamb Meatballs
Lamb meatballs with green lentils, crushed red bliss potatoes with olive oil
The meatballs weren't the best meatballs I've had. Despite all the flavor that could be in a meatball, these were almost tasteless. They had a bit of a sauce on them that improved the taste a bit, but not enough. The lentils, sitting under the meatballs, had a bit of a creamy texture. Unfortunately, I didn't think the taste of the lentils was a good accompaniment to the meatballs. The flavors just didn't go all that well together.
Tiramisu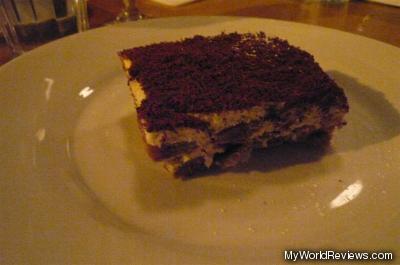 Tiramisu
Our homemade classic. Layers of sponge cake soaked in coffee, cream filling, sprinkled with cocoa powder.
The Tiramisu was a fairly large piece. It was a typical Tiramisu.
review contents
Dress
Cost
Reservations
Items Ordered
Eggplant Napoleon
Hand Rolled Potato Gnocchi
Lamb Meatballs
Tiramisu
related reviews
More reviews in New York, NY
Been here? Want to write your own review of this restaurant?