Your Reviews About the World
MyWorldReviews.com
Let the world know what you think
Panna II
New York, New York, United States
93 1st Ave
New York, New York, United States
10003
212-598-4610
panna2.com
View Map
Overall Experience:
7 / 10
Date Visited:
Saturday, December 3, 2011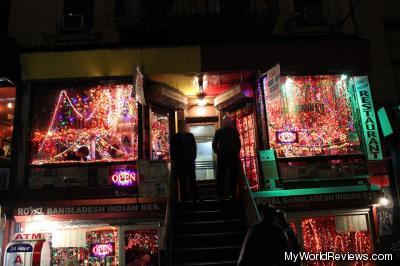 Panna II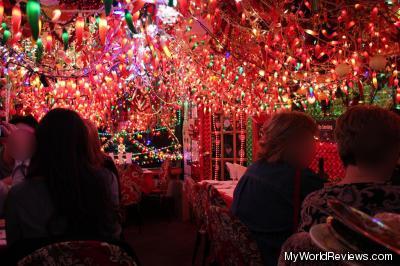 Inside Panna II
Panna II is one of the most unusual places I have been to in awhile. It feels like the restaurant is a fire hazard, but it hasn't been shut down yet, so perhaps it's safe. The entire restaurant is covered with an overwhelming number of lights and shiny wrapping paper. The lights hang from the ceiling and bump your head if you try to move the wrong way.
The restaurant packs people in, so at times it feels a bit claustrophobic, but the decor is so crazy and unusual that it's worth visiting for the experience.
The food itself wasn't the best Indian food I've had - it was below average. I felt like we just chose poor options. One of the other people we were with ordered the chicken vindaloo and that smelled really good. Despite the poor food we had, the decor is strange enough that it's worth trying.
There are a number of Indian restaurants in the area all trying to fight for your patronage. We were pulled in to two other restaurants (trying to find our group) before we were able to make our way to Panna II.
The restaurant is currently BYOB, and there is no corkage fee.
Dress
Fairly casual
Cost
Entrees ranged from $9 - $16.
Items Ordered
Baigan Pakora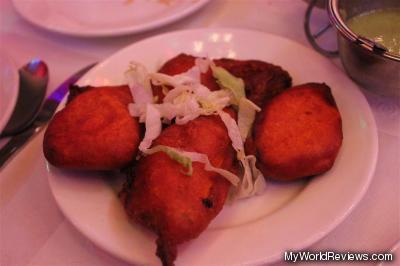 Baigan Pakora
Eggplant Fritters
The eggplant fritters were small pieces of eggplant that had been battered and deep fried. As with most things that are deep fried, they were pretty tasty. They weren't like the usual vegetable pekora that you have at an indian restaurant - these were a bit more donut-like (and not as good in my opinion)
Samosa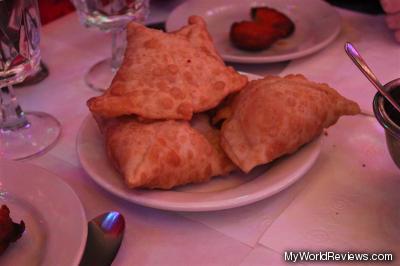 Samosa
Meat, vegetable, or coconut turnovers - 2 pieces
We hadn't tried coconut samosas before but thought they would be an interesting change from the usual vegetable or meat. They tasted more like a dessert item. The samosas were the usual fried exterior, but on the inside they were mostly air with a bit of sweetened shredded coconut. They were a bit unusual and dry - I wouldn't order them again.
Chicken Tandoori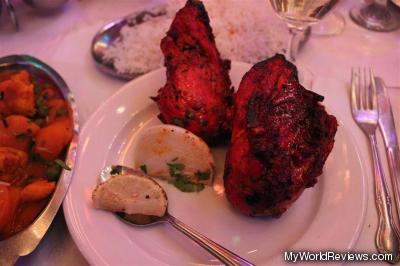 Chicken Tandoori
white meat
We saw another table order the lamb tandoori and it came on a sizzling platter with a nice smelling sauce. We thought we would try the chicken tandoori, hoping for a similar thing. Unfortunately it was just two chicken breasts that were cooked in the usual tandoori oven. That was disappointing. They were very plain on their own.
Aloo Mottor Gobi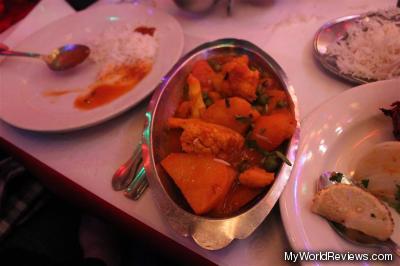 Aloo Mottor Gobi
Potatoes, peas, and cauliflower cooked in delicate spices
Aloo Gobi is usually my favorite Indian dish. Most of the other items here were quite disappointing, so it was certainly the star of the meal. ...but it still wasn't any better than average. The dish had a few pieces of potato and cauliflower in a light sweet sauce.
review contents
Dress
Cost
Items Ordered
Baigan Pakora
Samosa
Chicken Tandoori
Aloo Mottor Gobi
related reviews
More reviews in New York, NY
Been here? Want to write your own review of this restaurant?