Your Reviews About the World
MyWorldReviews.com
Let the world know what you think
Pam Real Thai Food
New York, New York, United States
404 W. 49th Street
New York, New York, United States
10019
212-333-7500
View Map
Overall Experience:
7 / 10
Date Visited:
Monday, April 14, 2008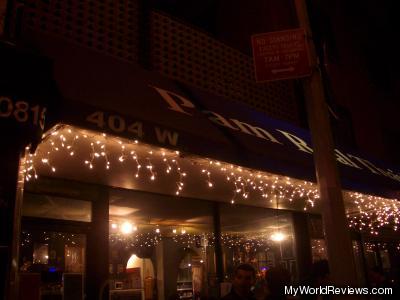 Pam Real Thai Food is a Thai restaurant in Manhattan, located on 49th street between 9th and 10th avenue (but closer to 9th avenue). They offer good Thai food at very reasonable prices. The restaurant only accepts cash.
The restaurant doesn't pay much attention to the decor, but the building is still in good condition and it is clean. The restaurant isn't a fancy place, but it offers good food at good prices.
Cost
Everything at Pam Real Thai Food is very reasonably priced. The food is of good quality, and you don't over pay for it.
Dress
Very casual
Service
There was nothing unusual about the service. We were all brought glasses of water (which were refilled for us throughout our meal). We were brought our bill at the end of the meal, and paid with cash (since only cash is accepted).
Items Ordered
Fried Spring Rolls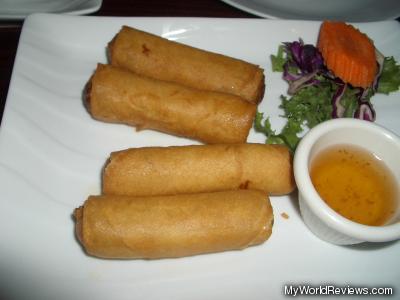 Fried Spring Rolls
Stuffed rice crepe with cabbage, carrot, taro, and bean thread, served with plum sauce
The spring rolls were nice and fried, just like spring rolls should be. The filling was slightly unusual, but maybe it's normal filling for a Thai spring roll.
Fried Fish Cake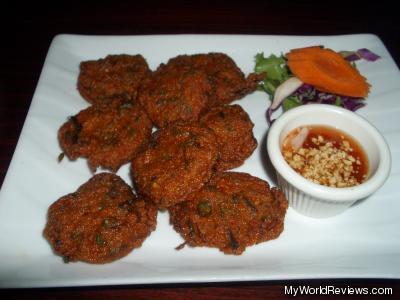 Fried Fish Cake
Home made fish patties with red curry paste, diced stri and shredded lime leaf, served with cucumber salad and ground peanut
The fried fish patties were like little flattened meat balls, except made with fish instead of meat. You could definitely tell they were made from fish.
Pad Sweet & Sour
Sauteed with mixed vegetable in sweet & sour sauce
Cost:
$7.00 (with chicken)
The Pad Sweet & Sour was a fairly good entree. It consisted of stir fried veggies that were served over rice. There were a lot of veggies (tomatoes, baby corn, zucchini), and they were often in large chunks. I thought that the sauce was a little bit strange - it tasted like sweet and sour sauce mixed with ketchup. It wasn't all that bad, but I thought the sauce could have been better.
review contents
Cost
Dress
Service
Items Ordered
Fried Spring Rolls
Fried Fish Cake
Pad Sweet & Sour
related reviews
More reviews of this restaurant
More reviews in New York, NY
Been here? Want to write your own review of this restaurant?