Your Reviews About the World
MyWorldReviews.com
Let the world know what you think
P. F. Chang's China Bistro
Honolulu, Hawaii, United States
2201 Kalakaua Ave.
Honolulu, Hawaii, United States
96815
808-628-6760
pfchangs.com
View Map
Overall Experience:
7 / 10
Date Visited:
Wednesday, May 21, 2008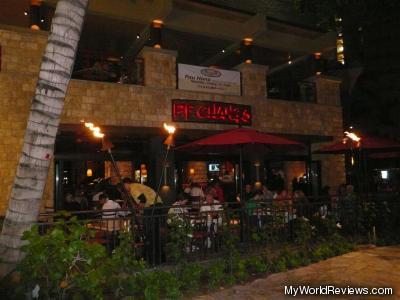 P.F. Chang's is an Americanized Chinese restaurant chain. This location is in Waikiki, in the big tourist area. One of the things I like about PF Chang's is that you can order a few dishes and share them between everyone at the table. That way, if you're not very hungry, you can still go there and have a small dinner without having to deal with leftovers.
As with many restaurants in the area, there was live music being played in the evening. There was a guy singing and playing a ukulele. Sitting in the upstairs balcony, we were able to enjoy the music without it being too loud. He played a great selection of popular songs.
Cost
Most things in Waikiki are a bit overpriced, since it is a very popular tourist place. However, the prices at PF Chang's were pretty reasonable, considering the area.
Dress
Almost all of waikiki is casual. PF Chang's is no exception. Shorts and a t-shirt are fine.
Parking
There are lots of hotels nearby, and hopefully you're parked at one of them. Waikiki isn't all that car friendly - it's easier to walk here.
Pepper Steak
Pepper Steak
Quickly cooked steak with red and green bell peppers, yellow onion, garlic and black pepper
The pepper steak was our least favorite dish at PF Changs. It was mostly just beef with a couple pieces of sweet bell pepper. The sauce was very thick, and it had a nice typical flavor. Although this dish was pretty good, there wasn't anything special about it.
Kung Pao Shrimp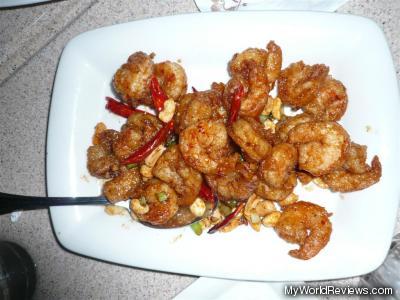 Kung Pao Shrimp
Quick-fired with peanuts, chili peppers and scallions. Our hot favorite.
The shrimp were very good - they were nice and crispy, and had a delicious flavor. This dish contained some incredibly hot chili peppers. Everyone at our table agreed it was probably the hottest thing we've ever tasted. If you avoided the chili peppers, the shrimp itself wasn't really all that spicy.
Almond and Cashew Chicken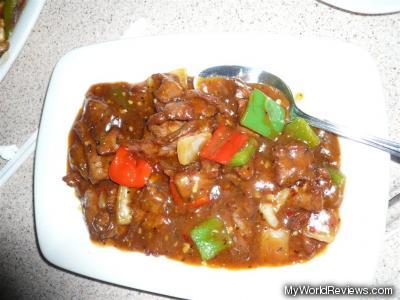 Almond and Cashew Chicken
Stir-fried with bell peppers, onions, and mushrooms in a garlic soy sauce
This is probably the "classic" PF Chang's dish. The almond cashew chicken has a nice sauce. It is a bit on the salty side, but not uncomfortably salty. The dish has a lot of chicken, cashews and almonds in a nice thick sauce.
Dessert Selection - Great Wall of Chocolate, Tiramisu, Smores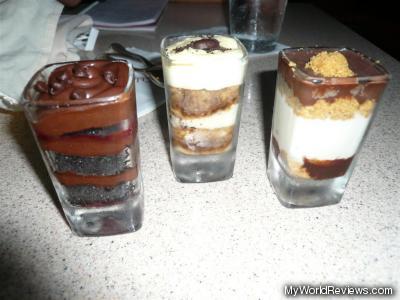 Dessert selection
PF Chang's offered a selection of small desserts for $2.75 each. They were a good individual size dessert.
The Great Wall of Chocolate was very chocolatey and quite rich. It also had raspberries. Some people might like that, but I don't like fruit in my chocolate.
The Tiramisu had a slight cheese flavor, and was nice and creamy. It wasn't bad tiramisu, but wasn't excellent, either.
The smores dessert had the consistency of whipped marshmallows. It wasn't really that enjoyable, and I wouldn't order it again.
review contents
Cost
Dress
Parking
Pepper Steak
Kung Pao Shrimp
Almond and Cashew Chicken
Dessert Selection - Great Wall of Chocolate, Tiramisu, Smores
related reviews
More reviews in Honolulu, HI
Been here? Want to write your own review of this restaurant?