Your Reviews About the World
MyWorldReviews.com
Let the world know what you think
P.J. Clarke's
New York, New York, United States
4 World Financial Center
New York, New York, United States
212-285-1500
pjclarkes.com
View Map
Overall Experience:
6 / 10
Date Visited:
Saturday, July 4, 2009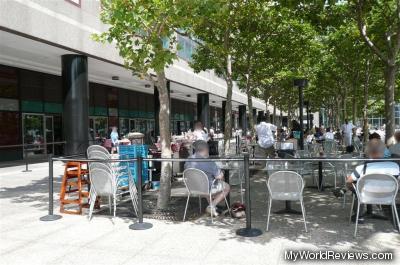 P.J. Clarke's on the Hudson
P.J. Clarke's is a Bar chain with a long history in New York. Their menu includes sandwiches, burgers, and seafood. This new location on the Hudson is located in the World Financial Center and includes a large outdoor patio with views of the Hudson river. It's a great place to sit and eat on a nice day.
Dress
Very Casual
Cost
Sandwiches and Entree salads were $15-$20.
Reservations
There were several tables open on a Saturday afternoon in their outdoor patio. It might be quite busy during more popular times. I'm not sure if they take reservations.
Items Ordered
Burger and French Fries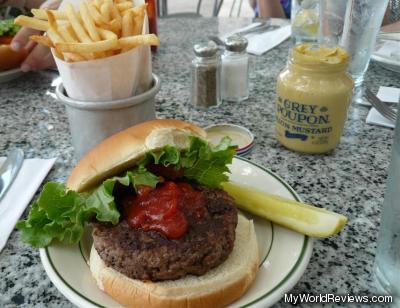 Burger and French Fries
Cost:
$8 - burger, $4.10 - fries
This was a decent thick burger. It wasn't as juicy as some others I've had, and was a bit on the dry side. The fries were pretty good but nothing out of the ordinary.
The burger was served with lettuce, tomato, and a pickle on the side. Ketchup and mustard were available on the table.
review contents
Dress
Cost
Reservations
Items Ordered
Burger and French Fries
related reviews
More reviews in New York, NY
Been here? Want to write your own review of this restaurant?