Your Reviews About the World
MyWorldReviews.com
Let the world know what you think
Osteria Morini
New York, New York, United States
218 Lafayette Street
New York, New York, United States
10012
212.965.8777
www.osteriamorini.com
View Map
Overall Experience:
7 / 10
Date Visited:
Friday, January 20, 2012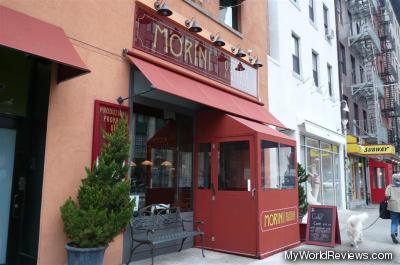 Osteria Morini
Osteria Morini is an Italian restaurant located in the SoHo neighborhood of NYC. The restaurant has some good quality Italian food with fresh ingredients. They make their own pasta, and it tastes good.
Dress
Lunch was fairly casual
Cost
Lunch entrees were $15-$20
Reservations
We visited during restaurant week for lunch and the place was full. Reservations are recommended.
Items Ordered
Restaurant week lunch menu
Cost:
$24.07 for a 3 course lunch
Erbazzone Reggiano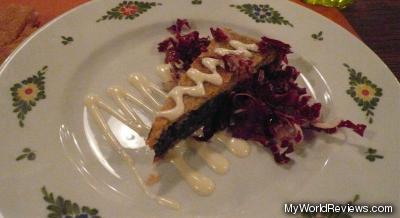 Erbazzone Reggiano
Cost:
The appetizer in the 3-course $24.07 lunch
spinach filled pastry, smoked ham, parmiganio
This appetizer was kind of like a spinach and cheese quiche. The pastry was soft and flaky. The filling had a nice flavor from the cheese.
Gramigna
Gramigna
Cost:
The main in the 3-course $24.07 lunch
sausage ragu, parmigiano
The pasta was simple but delicious. The sausage in the sauce gave it a lot of flavor. The pasta was really fresh and delicious, and I loved the multi-colored pasta.
Italian Hot Chocolate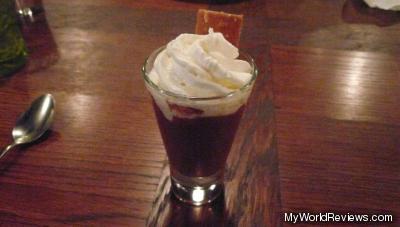 Italian Hot Chocolate
Cost:
The dessert in the 3-course $24.07 lunch
The Italian hot chocolate was so thick it was like a warm chocolate pudding. It was small, but very rich.
Pollo Cacciatore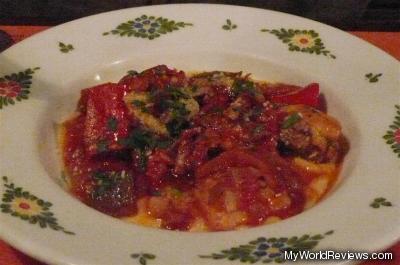 Pollo Cacciatore
Cost:
Another main in the 3-course $24.07 lunch
Chicken, tomato, mushroom, peppers, onion, pancetta
I was a bit disappointed in the chicken cacciatore. The dish seemed to have a lot of cheese in it, and that gave it a very heavy feel. The chicken was a mix of white and dark meat, and the way it was cut seemed unusual.
Stricchettoni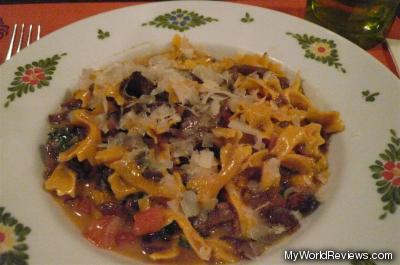 Stricchettoni
Bow tie pasta, braised wild mushrooms
The Stricchettoni was a fairly plain fresh pasta served in a mushroom sauce. There were also a couple small pieces of tomatoes, but otherwise the dish was just pasta with mushrooms. It tasted pretty good, and mostly had the strong taste of wild mushrooms.
review contents
Dress
Cost
Reservations
Items Ordered
Restaurant week lunch menu
Erbazzone Reggiano
Gramigna
Italian Hot Chocolate
Pollo Cacciatore
Stricchettoni
related reviews
More reviews in New York, NY
Been here? Want to write your own review of this restaurant?