Your Reviews About the World
MyWorldReviews.com
Let the world know what you think
Once Upon A Tart
New York, New York, United States
135 Sullivan Street
New York, New York, United States
10012
646-808-3448
www.onceuponatart.com
View Map
Overall Experience:
8 / 10
Date Visited:
Wednesday, April 21, 2010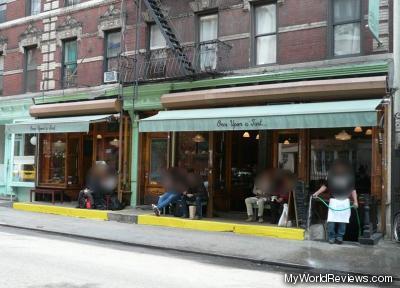 Once Upon A Tart
Once Upon a Tart is a cafe located in SoHo. They have two stores side-by-side. One is for take-out only, and the other is for take-out or to stay and eat at one of their small cafe tables. There are also a number of benches for enjoying your meal outside. The cafe offers a number of tarts, sandwiches, salads, soups, and other baked goods. The food was all very good, and there is quite a bit of variety from day to day. I loved the cozy, casual feel of this place.
Dress
Casual
Cost
Most items are $6-$7.
Service
This is not a sit-down restaurant. You place your order at the counter, pay for your food, and then take a seat at an open table.
Items Ordered
Potato Salad of the Day
Red Pepper, Onion, Asparagus, Lemon Pesto
Cost:
$3.55 for small, $5.75 for large
This was an unusual potato salad. It wasn't creamy, although it was rather oily from the pesto. It was a bit sweet from the roasted red peppers and roasted onions. I liked the change from the typical potato salad.
Sandwich of the Day
Sandwich of the day, potato salad, walnut raspberry scone, and cappuccino
Grilled Chicken w/ Eggplant, Mix Greens, Tomato Pesto
The sandwich was also a bit greasy, mostly from the rosemary focaccia bread, but it was delicious. There was a good number of grilled vegetables combined with the chicken.
Spinach and Mushroom Tart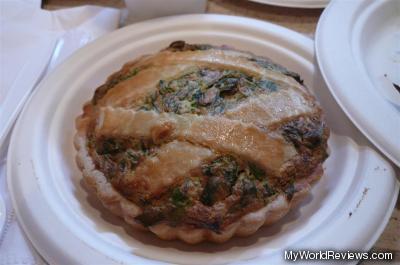 Spinach and Mushroom Tart
Cost:
$5.95 for individual
The tart was excellent. The pastry crust was soft and buttery. The filling was mostly spinach and cheese with a bit of mushroom. Although it was kept cool in the display case, it was heated for 5 minutes before being served.
Walnut Raspberry Scone
There was a variety of scones and muffins available that all looked delicious. This walnut scone was soft and crumbly and was delicious with the raspberry jam center.
review contents
Dress
Cost
Service
Items Ordered
Potato Salad of the Day
Sandwich of the Day
Spinach and Mushroom Tart
Walnut Raspberry Scone
related reviews
More reviews in New York, NY
Been here? Want to write your own review of this restaurant?