Your Reviews About the World
MyWorldReviews.com
Let the world know what you think
Novecento
New York, New York, United States
343 West Broadway
New York, New York, United States
10013
212-925-4706
www.bistronovecento.com
View Map
Overall Experience:
6 / 10
Date Visited:
Friday, October 30, 2009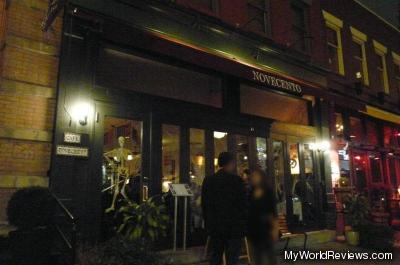 Novecento in SoHo
Novecento is an Argentinian restaurant in SoHo. Their menu is not very exotic. The restaurant looks fairly nice with a wall that opens up to the street on nice days. The food was ok, but I found a lot of it too be pretty heavy and greasy.
Dress
Smart casual - nice jeans and a nice shirt are fine. Some people were dressed up a little more.
Cost
Most entrees were $20-$30, except for the pasta dishes which were around $15
Service
It seemed to me that once the restaurant got busy, they were trying to rush us out, but in a professional manner.
Reservations
We arrived just before 8pm on a Friday evening and were seated right away, but shortly after the tables filled up and a line formed.
Items Ordered
Empanadas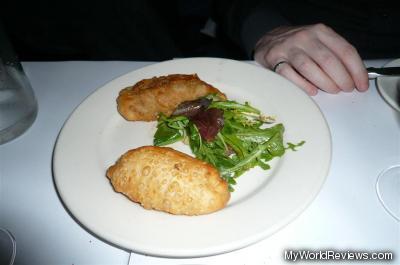 Empanadas
Your choice of two hand carved beef, spinach & cheese, or chicken
We chose the beef and chicken empanadas. The empanadas were pretty good. The dough was fried and crispy. The beef didn't have much seasoning, but tasted good with the dough. The chicken was a bit strange. I think it was mixed with cream cheese, which I didn't like.
Provoletta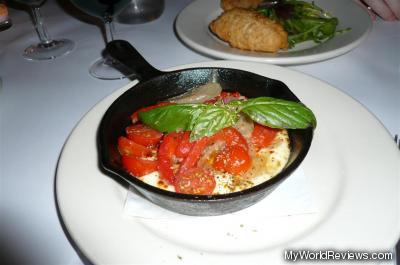 Provoletta
Melted provolone served with sauteed onions, red peppers and cherry tomatoes
This was a very tasty appetizer. The seasoning with the cheese was really good. There was just too much cheese. We split this between 3 people and it made us all feel very full afterward. We all did a poor job of finishing our entrees after that.
Entrana con Chimichurri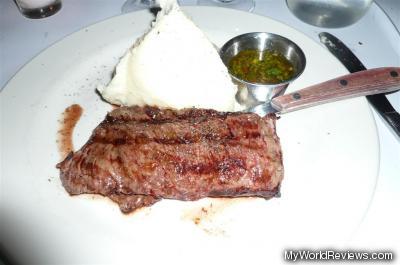 Entrana con Chimichurri
Grilled skirt steak, chimichurri sauce your choice of mashed potatoes or french fries
This was just a steak and potato dish, nothing else. The steak was very chewy and tough and fatty - not how I like my steak. The mashed potatoes were very good. They were buttery, possibly with a little bit of garlic.
Fettuccine de Vegetales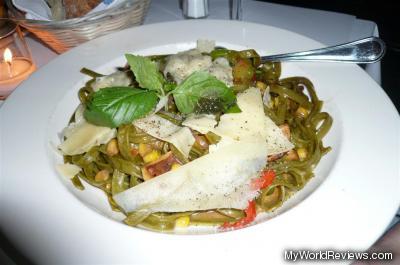 Fettuccine de Vegetales
Spinach fettuccine served with sauteed vegetables and olive oil
This dish had a lot of oil. There wasn't as much vegetables as I would have liked. The vegetables included onions, corn, peppers, mushrooms and spinach. It was pretty tasty, but just too greasy.
Panqueques con Dulce de Leche y Helado
Panqueques con Dulce de Leche y Helado
Crepes, dulce de leche, vanilla ice cream, whipped cream
The crepes were really good and filled with a delicious dulce de leche. Dulce de leche is a creamy sauce, almost like caramel, but without the bitterness that caramel often has.
review contents
Dress
Cost
Service
Reservations
Items Ordered
Empanadas
Provoletta
Entrana con Chimichurri
Fettuccine de Vegetales
Panqueques con Dulce de Leche y Helado
related reviews
More reviews in New York, NY
Been here? Want to write your own review of this restaurant?