Your Reviews About the World
MyWorldReviews.com
Let the world know what you think
Nomad
New York, New York, United States
78 2nd Avenue
New York, New York, United States
10003
212-253-5410
nomadny.com
View Map
Overall Experience:
7 / 10
Date Visited:
Friday, April 13, 2012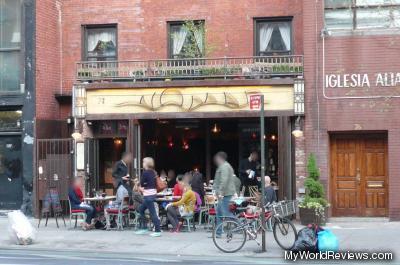 Nomad
Seating:
Back of the dining room
Nomad describes itself as a North-African/Mediterranean restaurant. They have a bar in the front with a few tables and another dining room at the back. The decor was pretty neat and the food was decent as well. I'm not usually a fan of mediterranean restaurants, but this was probably one of the better ones.
Dress
It's a fairly casual place.
Cost
Entrees range from $12-$21
Service
Our table wanted to order red sangria, but we were told they were all out of it. About 10 minutes later, after we had all ordered wine, we saw the same waiter bring out glasses of red sangria for the table next to us. That was annoying.
Reservations
It was pretty busy - reservations are recommended.
Items Ordered
Merguez Sandwhich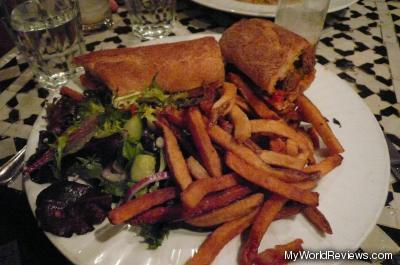 Merguez Sandwhich
on a baguette with chakchuka and harissa, served with French fries
The Merguez Sandwhich was fairly large and served with a salad and fries. The salad was OK - it was just greens in a plain oil vinaigrette. The fries were nice and crispy. The sandwich had two thin strips of spiced sausage and was topped with some tomato sauce. It was a fairly flavorful sandwich.
Seasonal Vegetable Couscous
Seasonal Vegetable Couscous
braised seasonal vegetables in a vegetable broth
The vegetable couscous was just what I was expecting - a bed of couscous topped with roasted vegetables (mainly zucchini and other types of squash). It was served with some vegetable broth on the side that helped give the couscous some flavor.
review contents
Dress
Cost
Service
Reservations
Items Ordered
Merguez Sandwhich
Seasonal Vegetable Couscous
related reviews
More reviews in New York, NY
Been here? Want to write your own review of this restaurant?