Your Reviews About the World
MyWorldReviews.com
Let the world know what you think
Nolita House
New York, New York, United States
47 East Houston Street, Upstairs
New York, New York, United States
10012
212-625-1712
nolitahouse.com
View Map
Overall Experience:
7 / 10
Date Visited:
Saturday, May 9, 2009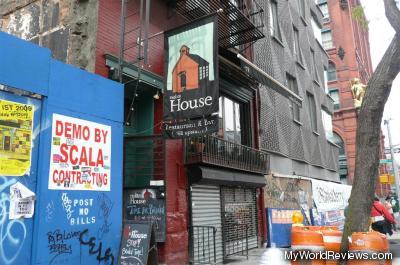 Nolita House
Nolita House is a restaurant located in the upstairs part of 47 E Houston Street in New York City. We visited the restaurant for brunch on a Saturday. It was quite busy, so I was glad we had reservations.
Everyone was entitled to a small free mimosa or juice with their brunch entree. The juice was especially tiny - the mimosa was mostly juice anyway, and probably a better choice.
Starting around noon, the restaurant has some live music. That was a nice touch. The restaurant was pretty noisy, but conversation was still possible. If you were sitting closer to the musicians, it may have been more difficult to converse.
Overall, I was quite impressed with everything we ordered. We tried the baked french toast and the omelette, and both were better than average.
Dress
Quite casual - jeans and a shirt are fine.
Cost
Pretty typical - most breakfast entrees were under $15.
Service
At first, the waitress brought us an incorrect beverage selection, but she corrected this by bringing out a larger juice. That was nice!
Reservations
Probably a good idea. The restaurant was fairly full when we arrived around 11:45a.
Items Ordered
Omelette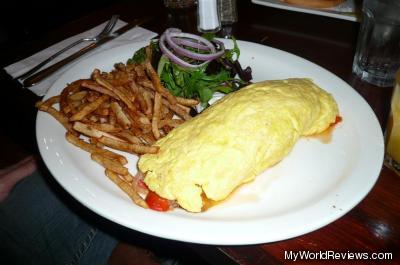 Omelette
Served with fries and a mixed salad. Available to add in: bacon, avocado, tomato, portobello, spinach, peppers, arugula, onions, sausage, swiss cheese, cheddar cheese, goat cheese, cream cheese
Cost:
$11 plus $0.75 per ingredient
The omelette dish was pretty impressive - it was served with a small salad and french fries. The fries were especially good - they were soft and well seasoned.
I ordered the omelette with peppers, onions, bacon, and cheddar cheese. The omelette was pretty tasty, but was also overly salty.
Baked French Toast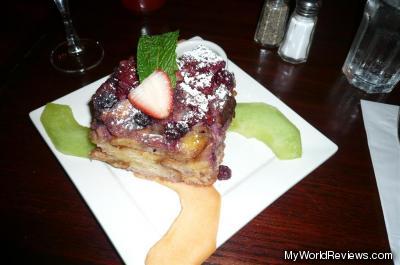 Baked French Toast
Egged brioche soaked in vanilla brandy and topped with a buttery brown sugar crumble served with seasonal fruit
The baked french toast was quite creative. I haven't seen anything like this before. They took french toast, cut it into pieces, then mixed it with cinnamon and brown sugar, and baked it like it was a lasagna. The resulting product was then cut into pieces, and served with fruit on top.
The baked french toast was the big hit at brunch - it was something unique and quite tasty.
review contents
Dress
Cost
Service
Reservations
Items Ordered
Omelette
Baked French Toast
related reviews
More reviews in New York, NY
Been here? Want to write your own review of this restaurant?