Your Reviews About the World
MyWorldReviews.com
Let the world know what you think
Nice Matin
New York, New York, United States
201 West 79th St
New York, New York, United States
212-873-6423
www.nicematinnyc.com
View Map
Overall Experience:
6 / 10
Date Visited:
Saturday, September 27, 2008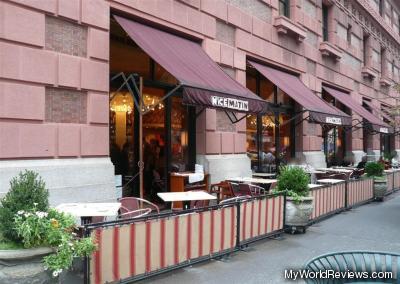 Nice Matin is a French restaurant (based on the food in the province of Nice) located in the Upper West Side of Manhattan. On weekends they serve brunch from 10:30-3:30. They have several tables out on the street, but it was raining during our visit, so we chose to sit inside. It also appeared that their large windows could be opened to the street during nicer weather.
The food here was pretty good. The interior had a European cafe feel to it. We were quite disappointed with one of the dishes we got here, hence the lower rating. Otherwise, it may have gotten a slightly higher rating.
Dress
Casual, especially for brunch - shorts and t-shirt are fine.
Cost
Prices are pretty typical for this area. Entrees are $10-$20.
Service
The restaurant was pretty busy, but the food arrived within a reasonable time.
Reservations
We arrived around noon for a Saturday brunch. Although it was busy, we didn't have to wait for a table.
Items Ordered
Free Bread Basket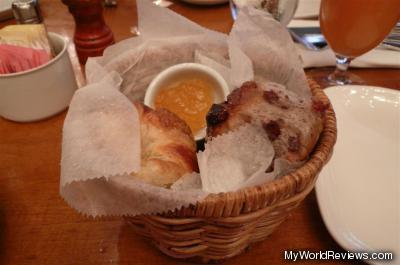 Free Bread Basket
At first we thought this was the appetizer we ordered - so were quite disappointed with how small everything was. When we later realized this was the free "bread" you often get at restaurants, we were quite impressed. Instead of just plain bread, we got an assortment of small pastries - including a small croissant, a cranberry scone, and some small muffins.
Cappuccino and Nice Brunch Juice Mix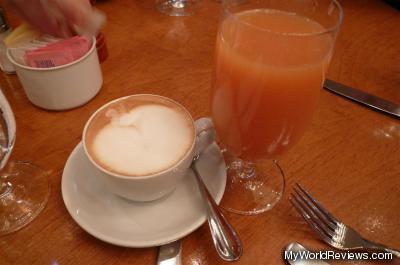 Cappuccino and Nice Brunch Juice Mix
Orange, mango, cranberry, pineapple
The cappuccino was very good - European quality. It had a good strong coffee taste, not like the typical American watered-down coffee.
The juice was a very interesting mix. There was enough of each fruit juice that you could taste all of the flavors.
Brunch Basket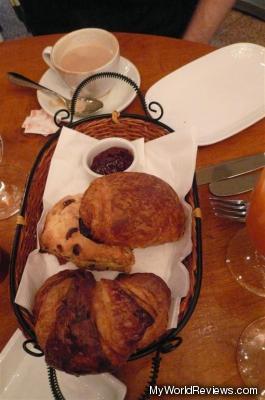 Brunch Basket
croissant, pain au chocolate, cranberry scone
The croissant was pretty typical. The pain au chocolate was very much like a chocolate croissant. The cranberry scone was warm and tasted fresh.
Orange-Buttermilk French Toast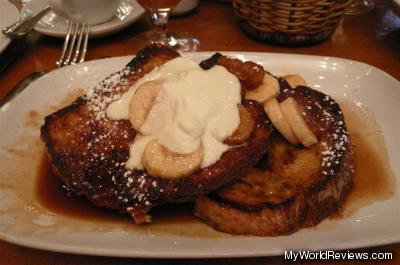 Orange-Buttermilk French Toast
Maple baked bananas & creme fraiche
Up until this point all the food we got was very good, so I was disappointed that this dish was not great. It had a very strange flavor, and I think it was the syrup, which probably wasn't pure maple syrup. The french toast and bananas were drenched in the sauce which I really didn't like. The french toast was well done with a good bread and cooked to a nice crisp, but the sauce ruined it.
Lorraine Omelette
Lorraine Omelette
Bacon, onions, comte & thyme
The omelette came with a small salad of mixed greens in a mild vinaigrette dressing, and potatoes baked in a tomato and vegetable sauce. The potatoes were nicely spiced, and quite tasty. The omelette itself was just ok. It was motsly just egg - there weren't enough toppings in it. It was also missing cheese. An omelette without cheese just isn't a proper omelette.
review contents
Dress
Cost
Service
Reservations
Items Ordered
Free Bread Basket
Cappuccino and Nice Brunch Juice Mix
Brunch Basket
Orange-Buttermilk French Toast
Lorraine Omelette
related reviews
More reviews in New York, NY
Been here? Want to write your own review of this restaurant?