Your Reviews About the World
MyWorldReviews.com
Let the world know what you think
New York City Police Museum
New York, New York, United States
100 Old Slip
New York, New York, United States
10005
212-480-3100
nycpolicemuseum.org
View Map
Overall Experience:
6 / 10
Date Visited:
Monday, February 21, 2011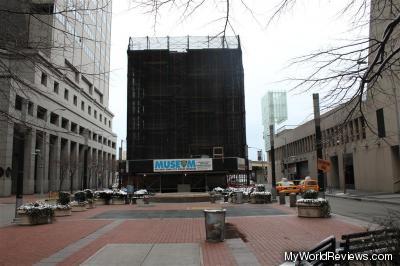 NYPD Police Museum
The NYPD Police Museum is a museum dedicated to the New York City Police Department, its members, their tactics, and the history of the organization. The museum is located in the building that originally housed the First Precinct of the NYPD. The museum was fairly interesting, although there wasn't anything all that impressive about it.
The museum has three floors, although the bottom floor is mostly taken up by a childrens play area, the admissions desk, and a gift shop. The top floor was the most interesting and detailed some of the anti-terrorism measures the NYPD undertakes. It also has a room with the badges of all officers who were killed in the line of duty, and another room with some artifacts from the WTC towers. The middle floor housed some police artwork, a collection of old weapons, and an exhibit on famous criminals who lived or worked in NYC.
The only exhibit on the main floor was a small room that talked about the history of the NYPD. I found it quite interesting - NYC is an old city, and people were in charge of protecting it long before there was an official police force.
Estimated Visiting Time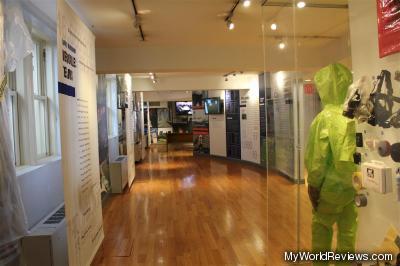 Upper Exhibit Hall
We spent 90 minutes at the museum and looked at everything (other than the kids play area) in a reasonable amount of detail. You could probably blow through the museum in 30 minutes if you're pressed for time, but I'd recommend allowing at least an hour to appreciate all the different exhibits.
The museum is also located a bit further out from many other NYC attractions, so you should allow some extra time to get here. The closest subway stations are Fulton St., Wall St., and Bowling Green, although it's probably a 5-10 minute walk from there.
Cost
Admission is $8 for adults.
Hours
The museum is open 10am - 5pm Monday through Saturday, and noon until 5pm on Sunday. Check the website for more up-to-date information.
review contents
Estimated Visiting Time
Cost
Hours
related reviews
More reviews in New York, NY
Been here? Want to write your own review of this attraction?