Your Reviews About the World
MyWorldReviews.com
Let the world know what you think
National Comedy Theater
New York, New York, United States
347 W. 36th St
New York, New York, United States
10018
212-629-5202
manhattancomedy.com
View Map
Overall Experience:
6 / 10
Date Visited:
Saturday, September 27, 2008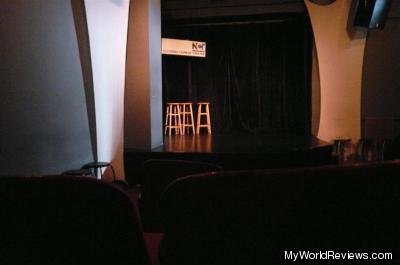 Inside the National Comedy Theater
National Comedy Theater is a comedy club that performs improv comedy shows in NYC. They're located on 36th street, between 8th and 9th avenue. The shows are all clean humor, and are appropriate for all ages.
The show is similar to "Who's Line Is It Anyway". There were five "cast members" that perform during the show. They play various games, each lasting between 5-10 minutes. Most of the games involve audience suggestions, such as the location a scene should occur. Audience members would yell out their ideas, and the cast members would pick one.
Overall, I enjoyed the improv show. It wasn't the best I've seen, but there were a number of funny scenes. Everyone in our group enjoyed the show. With all the audience interaction, every show could be very different.
Cost
Tickets are $15 for adults, with $12 discounted tickets available for students/children.
Length of Show
Our show started at 9:45p and finished around 11p.
review contents
Cost
Length of Show
related reviews
More reviews in New York, NY
Been here? Want to write your own review of this live show?