Your Reviews About the World
MyWorldReviews.com
Let the world know what you think
Nagomi
New York, New York, United States
179 Prince Street
New York, New York, United States
10012
(212) 387-8230
www.nagomisoho.com
View Map
Overall Experience:
6 / 10
Date Visited:
Tuesday, February 21, 2012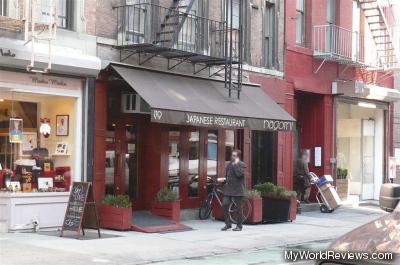 Nagomi in SoHo
Nagomi is a Japanese and sushi restaurant in SoHo. The sushi is made fresh and you can watch the sushi chefs preparing the sushi on the side.
For people who don't want sushi, there are other Japanese food options.
Dress
Casual
Cost
Most of the lunch specials were around $15-$20.
Reservations
The restaurant was not very busy at lunch and we had no problem getting a table.
Items Ordered
Nagomi Bento Box - tofu teriyaki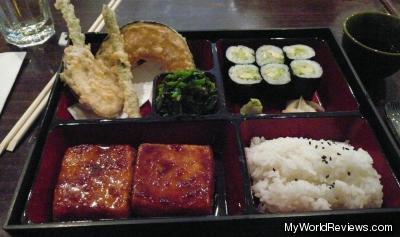 Teriyaki Tofu Bento Box
served with vegetable & shrimp tempura, choice of sushi, sashimi or california roll
Cost:
$12.25 - lunch special
The bento box is a pretty large meal with a few different components. Before the box was served, there was a bowl of miso soup. The bento box had a cold but cooked green vegetable salad in the middle. I asked for only vegetable tempura (no shrimp) and avocado-cucumber rolls. The tempura were delicious lightly battered and fried vegetables - squash, asparagus, and eggplant. The teriyaki tofu was not the best I've had. It was a mushy textured tofu covered in a thick sauce.
review contents
Dress
Cost
Reservations
Items Ordered
Nagomi Bento Box - tofu teriyaki
related reviews
More reviews in New York, NY
Been here? Want to write your own review of this restaurant?