Your Reviews About the World
MyWorldReviews.com
Let the world know what you think
NYChiliFest 2012
New York, New York, United States
75 Ninth Avenue
New York, New York, United States
10011
chilifest2012.com
View Map
Overall Experience:
6 / 10
Start Date:
Sunday, January 29, 2012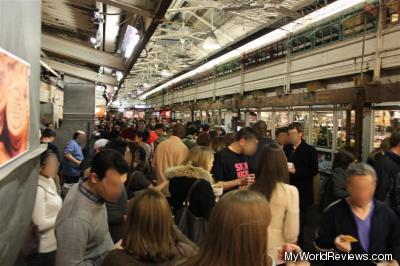 Inside Chili Fest 2012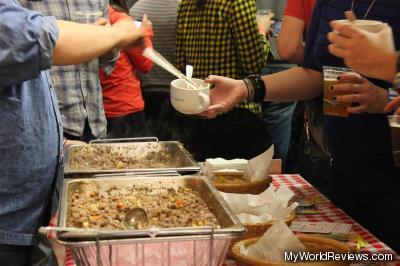 Scooping Chili at NYC Chili Fest 2012
Chili Fest is a Chili festival that takes place in Chelsea Market, NYC. It started in 2011, but our first year visiting was in January 2012. Admission for the 2012 year was $45/person, or $55/person if you also wanted Sam Adam's beer. There were about 20 different chili vendors offering wildly different styles of chili. I was surprised how much variation there was between different types of chili.
We arrived at the festival about 15 minutes before the doors opened. There was a bit of a line, but the line grew quite a bit longer before they started letting people in. I'm glad we got there when we did - it gave us a few minutes inside before there were large crowds and lines. We got to try a few chilis back-to-back without any waiting before the lines started to form.
When we first entered, they checked our ID (so we could pick up our tickets) and then we were given a reusable bowl and a spoon. Each vendor gave us one small scoop of chili. Some of them also added garnishes such as nachos.
It took us about 90 minutes to try most of the chili vendors. By that time there were some vendors that had run out of chili, but we were starting to get full so we didn't feel like we missed out. We did not have any beer, but if we did we might have been more pressed for time, as the lines for beer were quite long.
Although the event was a bit on the expensive side, it gave us the opportunity to try chili from about 20 different places. I thought Chili Fest offered good value for the money.
related reviews
More reviews in New York, NY
Been here? Want to write your own review of this Event?