Your Reviews About the World
MyWorldReviews.com
Let the world know what you think
NBC Rockefeller Center Tour
New York, New York, United States
30 Rockefeller Plaza
New York, New York, United States
10020
212-664-3700
nbcuniversalstore.com/index.php?v=nbunbcmktrct
View Map
Overall Experience:
8 / 10
Date Visited:
Sunday, September 7, 2008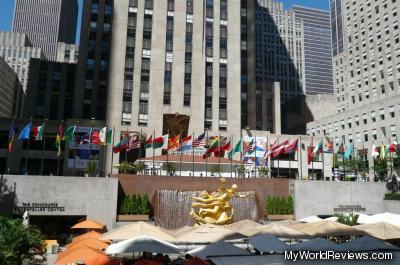 Prometheus and the GE Building
The Rockefeller Center Tour is a walking tour that explores some of the buildings in the Rockefeller Center, and the area around it. This particular tour has some affiliation with NBC, and tickets are sold through the NBC website (or phone). Tickets are picked up inside the NBC store (at the GE building, 30 Rockefeller Plaza) on the second floor of the store.
The tour starts and ends at the GE Building, at 30 Rockefeller Plaza (it's a small private street connecting 49th and 50th streets, between 5th and 6th avenue). Once you have your tickets, meet on the bottom floor, inside the NBC experience store.
The tour guide will meet you in the area, check your tickets, and hand out wireless audio devices so he can talk to the group while keeping a quiet voice. The tour begins by providing some background on the Rockefeller family. The first stop on the tour is just outside the store, in the lobby of the GE building. He talks about some of the paintings on the walls, their history, message, and controversy. We then went outside, and walked around the cafe area (where the skating rink is in the winter). We learned about its history, then moved on to see some of the art in the nearby buildings. I was surprised to see how much art there is among the buildings that you wouldn't otherwise notice.
Our tour guide presented Rockefeller in a very positive light. This may not be completely true or historically accurate, but it made for a happy and upbeat tour. Our guide was absolutely excellent - he really made the tour. Without such an excellent guide, the tour could have been boring. I'm glad we had such an interesting and enthusiastic guide.
Cost
This tour costs $12 by itself, but you can also purchase a "combination ticket" with the NBC Studio Tour for $23.45 (a savings of almost $7).
Estimated Visiting Time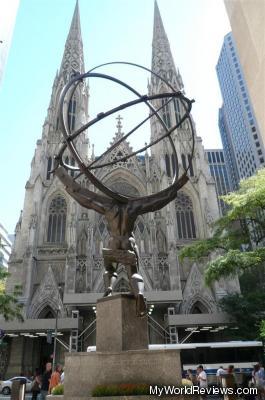 Atlas statue and St. Patrick's Cathedral
The tour is supposed to last 70 minutes, but our tour lasted 80 minutes. Our tour guide was excellent, and had lots to say.
review contents
Cost
Estimated Visiting Time
related reviews
More reviews in New York, NY
Been here? Want to write your own review of this attraction?
linked reviews