Your Reviews About the World
MyWorldReviews.com
Let the world know what you think
Museum of American Finance
New York, New York, United States
48 Wall Street
New York, New York, United States
10005
212-908-4110
moaf.org
View Map
Overall Experience:
6 / 10
Date Visited:
Saturday, February 21, 2009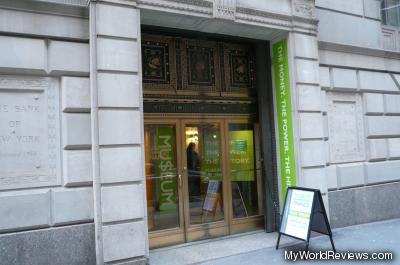 Museum of American Finance
The Museum of American Finance is a museum in downtown Manhattan (on Wall Street) dedicated to entrepreneurs and capitalism. The building itself is quite nice - it is the former location of the Bank of New York. The lobby has a small coat room and a reception area (where you pay for admission). The museum itself is located on the second floor.
The museum looked quite modern and well funded. The exhibits were up-to-date and informative. The entrepreneur section of the museum had a collection of video interviews with successful CEO's and entrepreneurs. The larger area of the museum had a number of video displays talking about how different exchanges worked, including interviews with floor traders.
Other exhibits included a display on the history of money, an analysis of the security features in paper currency, and the history of stock exchanges.
Cost
Admission for adults is $8. Student/senior admission is $5.
Estimated Visiting Time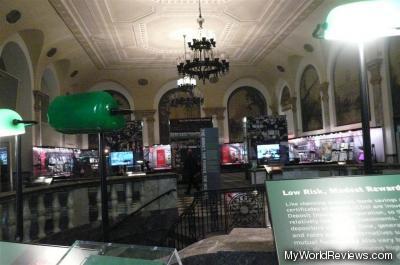 The floor of the museum of american finance
The entire museum can probably be viewed in about 3-4 hours. We spent about 3 hours at the museum, but got tired from reading all the text near the end (so we didn't quite finish reading everything).
review contents
Cost
Estimated Visiting Time
related reviews
More reviews in New York, NY
Been here? Want to write your own review of this attraction?