Your Reviews About the World
MyWorldReviews.com
Let the world know what you think
Muhammad Ali Mosque (Alabaster Mosque)
Cairo, Cairo, Egypt
Overall Experience:
4 / 10
Date Visited:
Tuesday, February 26, 2008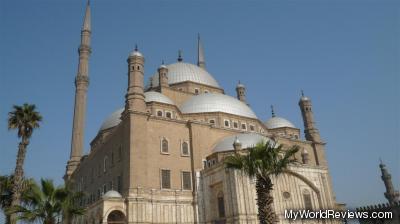 The Citadel of Salah al-Din (also known as the Saladin Citadel of Cairo) is a citadel that contains the Mohammad Ali Mosque (also known as the Alabaster Mosque). The Alabaster Mosque was the only mosque we visited inside the citadel, although there are also several other smaller mosques. This review is for the Mohammad Ali Mosque.
The interior of the mosque was fairly large, and it looked like most other mosques. The ceiling was tall and beautifully decorated, and the pillars were quite large. There was also an outdoor courtyard which contained a broken clock tower.
I think my favorite part about visiting the mosque was enjoying the view from the square outside the mosque. Since the citadel is located on a hill, you have an excellent view of the city below you. On clear days, you can also see the pyramids! When we visited, it was quite smoggy, but we could still just barely make out the shape of the pyramids in the distance.
Dress
The broken clock tower
Shorts and a t-shirt are fine for men. Women must dress more conservatively - skirt/pants and a head scarf are recommended. If you don't have a head scarf, the mosque staff will supply you with one. We did see women without a head scarf inside the mosque, so the rules aren't enforced, but it's probably best to be respectful.
Shoes must be removed inside the mosque.
Cost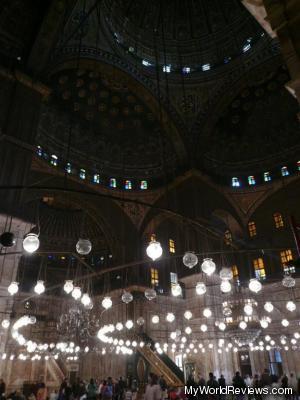 Inside the Alabaster Mosque
Entrance to the citadel of salah al-din (which includes the Muhammad Ali Mosque) is 40 LE per person. Taking videos and pictures inside the citadel and inside the mosque is permitted.
Estimated Visiting Time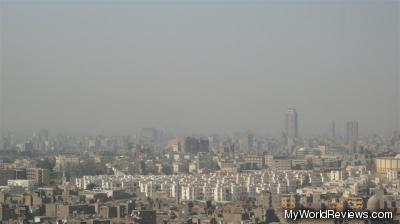 View of Cairo from the outdoor square
Expect to spend 30-45 minutes inside the mosque and surrounding area. Although it was nice inside, there really wasn't all that much to see.
review contents
Dress
Cost
Estimated Visiting Time
related reviews
More reviews in Cairo, Cairo
Been here? Want to write your own review of this attraction?