Your Reviews About the World
MyWorldReviews.com
Let the world know what you think
Morandi
New York, New York, United States
211 Waverly Place
New York, New York, United States
10014
212-627-7575
morandiny.com
View Map
Overall Experience:
7 / 10
Date Visited:
Wednesday, November 26, 2008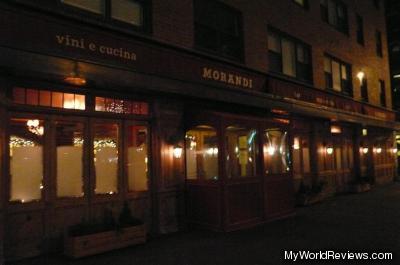 Morandi Restaurant
Seating:
Indoor dining room
Morandi is an Italian restaurant located in the north end of Greenwich Village. The restaurant has a nicely decorated interior with a large seating capacity. The staff was friendly and made some great recommendations from the menu. The food quality was pretty good, and was marginally more expensive than average.
Dress
Fairly casual to business casual. Jeans are fine, but if you're a bit more dressed up, that's fine too.
Cost
Slightly more expensive than average. Appetizers range from $10-$20. Pasta dishes are around $20, and other appetizers range from the low $20s to $40+. Desserts were $10.
Service
The service was slightly better than average. Our waiter was friendly and provided some good recommendations.
Reservations
When we visited around 7pm on a Wednesday evening, we were seated immediately.
Items Ordered
Bread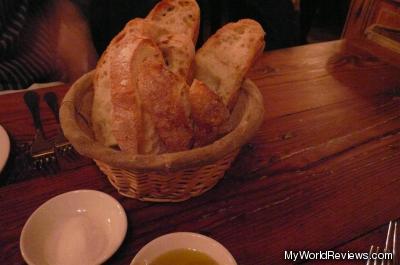 Bread
Our table was provided with a nice white crusty bread, and a dish of oil (and another dish of salt) to dip the bread in.
I noticed there was a large pile of bread loaves in the restaurant. I initially thought they were just for decoration, but later saw one of the employees slicing the bread loves and placing the pieces in baskets (like the one we received).
Mozzarella di bufala e zucca
Mozzarella di bufala e zucca
buffalo mozzarella with butternut squash
This appetizer had a nice texture, but not much flavor. It was enjoyable, but not great.
Buffalo mozzarella doesn't have much flavor in itself, and the butternut squash and balsamic vinegar didn't add much to it. It was an interesting combination. For $14, it seemed a bit overpriced.
Farfalle ai funghi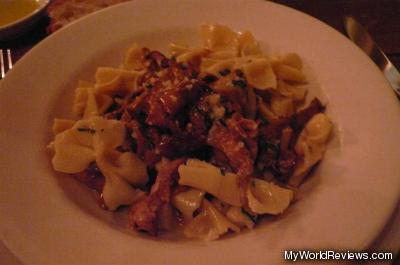 Farfalle ai funghi
bow tie pasta with seasonal mushrooms
The pasta had a subtle, but delicious, sauce. The mushrooms, however, had a delicious strong taste. I ordered this item because the waiter said the mushrooms were in season, and they did taste really good. There were a lot of mushrooms.
Tagliolini neri con gamberetti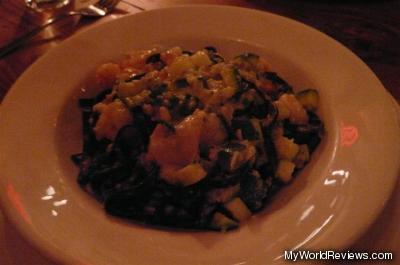 Tagliolini neri con gamberetti
squid ink pasta with shrimp & spicy almond pesto
This pasta was a bit on the spicy side (as the menu says), and it has tons of garlic in it. Much of the spice probably comes from the garlic. I thought it was pretty good. The shrimp went quite well with the garlic pasta, like they usually do.
The squid ink pasta is made fresh in the restaurant - they add a bit of squid ink to it for color. The squid ink adds a very subtle sweet flavor, but it doesn't taste at all like squid.
Tiramisu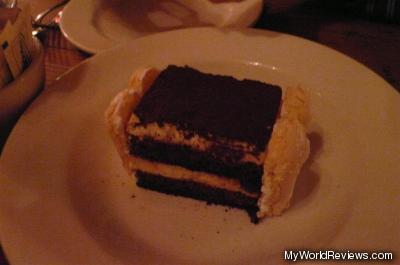 Tiramisu
mascarpone, espresso & savoiardi
Tiramisu is a great dessert, and this tiramisu was no exception. The lady fingers were fresh and soft, and the rest of the tiramisu was soft and creamy.
Torta torinese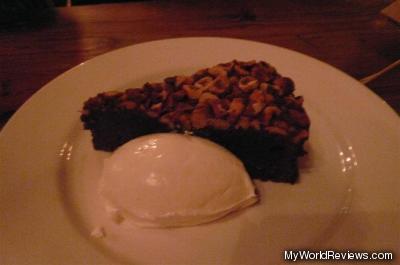 Torta torinese
hazelnut chocolate cake
Our waiter recommended the hazelnut chocolate cake to us, and it was pretty good, but I was a bit disappointed in it. The cake itself was very dense, almost like a fudge. It was topped with crushed hazelnuts. It was all quite good, but I felt that the cake was too dense, and the hazelnuts were too strong a texture contrast with the rest of the cake. I would have preferred something lighter.
The cake was served with a blob of something creamy on the side - possibly some variety of whipped cream. It was very sweet and tasty, and it helped make the incredibly dense cake more enjoyable.
review contents
Dress
Cost
Service
Reservations
Items Ordered
Bread
Mozzarella di bufala e zucca
Farfalle ai funghi
Tagliolini neri con gamberetti
Tiramisu
Torta torinese
related reviews
More reviews in New York, NY
Been here? Want to write your own review of this restaurant?