Your Reviews About the World
MyWorldReviews.com
Let the world know what you think
Milk & Cookies Bakery
New York, New York, United States
19 Commerce St.
New York, New York, United States
10014
212-243-1640
milkandcookiesbakery.com
View Map
Overall Experience:
8 / 10
Date Visited:
Tuesday, August 26, 2008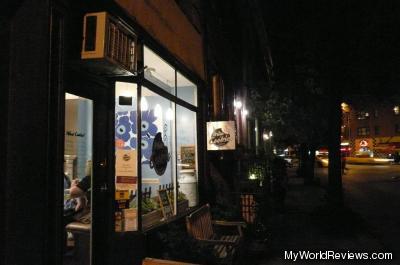 Milk & Cookies Bakery
Milk & Cookies Bakery is a small bakery that sells cookies, cupcakes, and "cookie and ice cream creations". They're located in Greenwich Village in New York City. It's a fairly small store, on a small street (Commerce) just off 7th Avenue. They have a couple tables if you want to eat your desserts at the store, or you can take your desserts to go.
We visited Milk & Cookies again in early October of 2008. At the time, they were closed for the evening. They had just finished one private party, and had another party starting shortly. One of the staff members must have seen us looking at the "Sorry, we are closed" sign, and came out to help us. Although they were closed, he went out of his way to get us some cookies. I was very impressed with his attitude and his willingness to help us out. His kindness really made my weekend.
Dress
Very casual
Cost
Items from Milk & Cookies aren't cheap, but they are pretty tasty. A single cookie costs $1.65
Service
Just walk up to the counter and place your order. You pay for what you ordered, and you can either eat it at one of the tables in the store, or take it with you.
Items Ordered
Chocolate Mint Cookie, and a Cupcake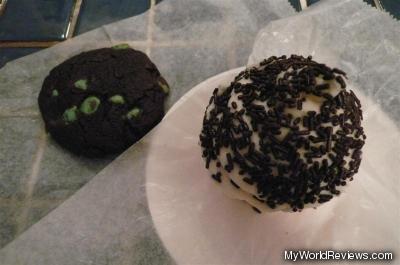 Chocolate Mint Cookie & Cupcake
Both this chocolate mint cookie and the cupcake were quite good. The chocolate mint cookie was fairly chocolaty, and it had a strong mint flavor.
The cupcake was fairly tall, and it was very sweet. There was a lot of icing on it. The cupcake itself was also quite moist. I was a bit concerned it might be stale (since it was just sitting out in a cupcake rack), but it tasted fresh and delicious.
review contents
Dress
Cost
Service
Items Ordered
Chocolate Mint Cookie, and a Cupcake
related reviews
More reviews in New York, NY
Been here? Want to write your own review of this restaurant?