Your Reviews About the World
MyWorldReviews.com
Let the world know what you think
Max Brenner
New York, New York, United States
841Broadway
New York, New York, United States
www.maxbrenner.com
View Map
Overall Experience:
7 / 10
Date Visited:
Sunday, September 28, 2008
Max Brenner (Union Square, NYC)
Max Brenner (Chocolate by the Bald Man) is a restaurant devoted to chocolate. They have an extensive menu of unique and typical chocolate desserts. One of their specialties is chocolate fondue, which is great for sharing.
Max Brenner has locations all around the world, including two in New York. We visited the restaurant located just south of Union Square.
Dress
Casual - shorts and t-shirt are fine.
Cost
Prices are a bit high for a dessert. We spent around $10 per person.
Reservations
This place is pretty busy in the evenings, especially on the weekend. We managed to get a table without waiting when we were there, but other times I've had to wait about 30 min. I don't think they take reservations. The restaurant also has a chocolate shop that's fun to look around in while you are waiting for a table.
Items Ordered
Warm Trio Chocolate and Toffee Caramel Fondue (Tastings for Two)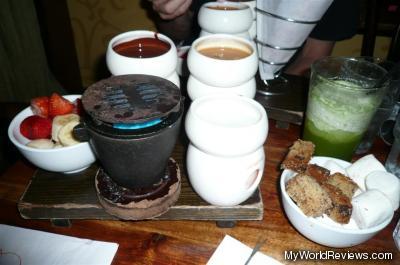 Warm Trio Chocolate and Toffee Caramel Fondue
A trio of melted fondues offers a choice of two chocolate fondues (dark, milk or white) and warm toffee caramel. Served with banana bread, strawberries, sliced bananas, and your own personal grill to roast your marshmallows.
We ordered the fondue with two bowls of dark chocolate - since we're big fans of dark chocolate. The caramel was good too, but the chocolate was really delicious!
There were quite a few pieces for dipping into the fondue, but we still had fondue left over in the end. We could have asked for more fruit, banana bread, or marshmallows, but we were way too full. This tastings for two really could have been shared between three.
The grill for roasting marshmallows is especially great! There's nothing as good as a roasted marshmallow coated in warm chocolate.
review contents
Dress
Cost
Reservations
Items Ordered
Warm Trio Chocolate and Toffee Caramel Fondue (Tastings for Two)
related reviews
More reviews in New York, NY
Been here? Want to write your own review of this restaurant?