Your Reviews About the World
MyWorldReviews.com
Let the world know what you think
Mary Ann's
New York, New York, United States
353 Greenwich St
New York, New York, United States
10013
212-766-0911
maryannsmexican.com
View Map
Overall Experience:
6 / 10
Date Visited:
Friday, November 18, 2011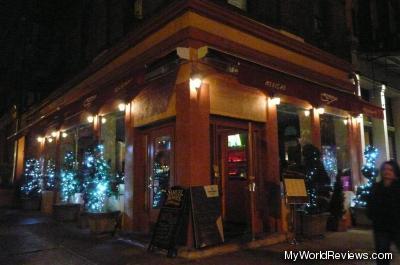 Maryanns
Seating:
Dining Area (back)
MaryAnn's is a Mexican restaurant with a couple locations in and around NYC. We visited their location on the corner of Greenwich and Harrison. They offer cheap tasting Mexican-inspired dishes, adjusted for American taste preferences. It felt like everything was covered in a lot of cheese. This seemed like one of the few family-friendly restaurants in the area.
Dress
Casual
Cost
Most entrees were around $15-$20.
Reservations
We walked in around 7:30pm on a Friday evening and didn't have a problem getting a table.
Items Ordered
Tampico Burrito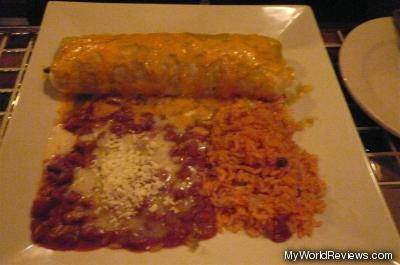 Tampico Burrito
Shredded chicken breast with lettuce and tomato wrapped in a flour tortilla, topped with tomatillo sauce and melted cheddar cheese and guacamole. Served with Mexican Rice and beans.
The burrito was very cheesy and stuffed with shredded chicken, with a little bit of lettuce and tomato on the inside. With the exception of the lettuce and tomato, there were no other vegetables. This tasted like a very unhealthy dinner. It was tasty though. The beans were covered with what looked like a couple of different types of cheese, and went well with the burrito and the rice.
Harrison Street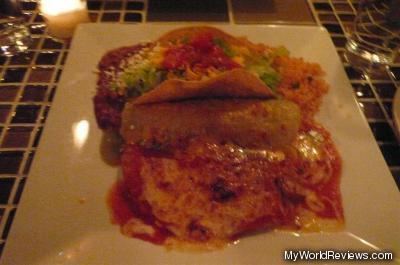 Harrison Street
One chicken enchilada, a Cheese chile relleno and a guacamole taco. Served with rice and beans.
The chicken enchilada was stuffed with chicken, just like the tampico burrito. The guacamole taco was served cold, but was probably one of the better items here. The chile relleno was odd - it felt like something went wrong and rather than provide a proper chile relleno, they just served the fried/cheese covered blob with chunks of chili hidden inside pictured here.
review contents
Dress
Cost
Reservations
Items Ordered
Tampico Burrito
Harrison Street
related reviews
More reviews in New York, NY
Been here? Want to write your own review of this restaurant?