Your Reviews About the World
MyWorldReviews.com
Let the world know what you think
Marie Belle
New York, New York, United States
484 Broome Street
New York, New York, United States
10013
212-925-6999
www.mariebelle.com
View Map
Overall Experience:
6 / 10
Date Visited:
Saturday, February 5, 2011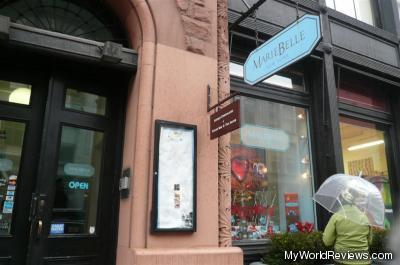 Marie Belle in SoHo
Marie Belle is a chocolate shop in SoHo with a "Cocoa Bar & Tea Salon" (a cafe area) in the back. The store has an antique look with large crystal chandeliers hanging from the ceiling. The menu offers a selection of hot chocolate, tea, soups, salads, sandwiches and crepes. Their hot chocolate menu consists of a variety of dark, milk and white hot chocolates with different flavors. We came here for an afternoon dessert - they close early in the evening. The food was all very good, but nothing special and a bit overpriced.
Dress
Casual
Cost
Crepes were $11. Hot chocolate was $6 for a really small cup, $8 for a medium, $9 for a large.
Service
The cafe is seat yourself and table service.
Items Ordered
Medium Hot Chocolate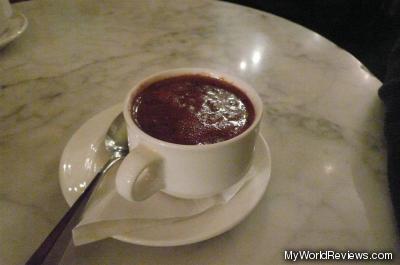 Medium Hot Chocolate
Dark Spicy: 60% base with ancho chile, chipotle, cinnamon & nutmeg
Marie Belle's hot chocolate is thick and rich. It tastes like they just melted chocolate and butter into your cup. The dark spicy hot chocolate was not too spicy, but had a great texture.
Crepe Au Chocolat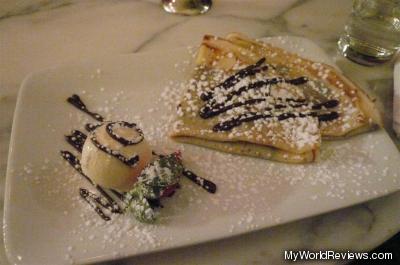 Crepe Au Chocolat
The crepe was a pretty typical dessert crepe. It came with a small scoop of vanilla ice cream. The chocolate inside was warm and melted.
review contents
Dress
Cost
Service
Items Ordered
Medium Hot Chocolate
Crepe Au Chocolat
related reviews
More reviews in New York, NY
Been here? Want to write your own review of this restaurant?