Your Reviews About the World
MyWorldReviews.com
Let the world know what you think
Manzo at Eataly
New York, New York, United States
200 5th Ave
New York, New York, United States
10010
212-229-2180
eatalyny.com/eat/manzo
View Map
Overall Experience:
7 / 10
Date Visited:
Sunday, March 11, 2012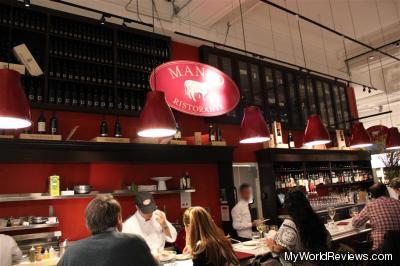 Manzo Restaurant inside Eataly
Manzo is a Mario Batali restaurant inside Eataly in NYC. Eataly is an experience in itself. It's like being transported into an Italian marketplace. In addition to selling groceries, meats, cheese, and more, they also have several restaurants. Manzo, is one of the more formal dining restaurants and is also slightly more expensive. The food specializes in meat entrees, but also includes several pasta dishes.
Dress
Although Manzo is more formal, the dress is still pretty casual. Jeans are fine.
Cost
Entrees were about $20-$30
Reservations
They do take reservations. When we visited on a Sunday evening there was only a short wait for a table. Other restaurants in Eataly had about a 45 minute wait.
Items Ordered
Roasted Beets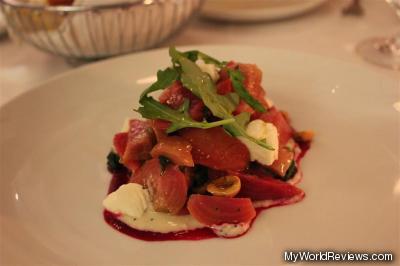 Roasted Beets
with Hazelnuts, Poppy seeds & smoked ricotta
The roasted beet salad was delicous. The smoked ricotta gave it a really nice unique flavor. The beets were a variety of colors and were nicely cooked.
Carpaccio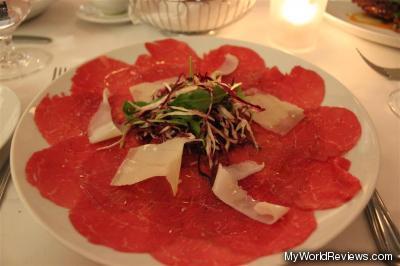 Carpaccio
with shaved Parmigiano, Lardo & Olio Toscano
The Carpaccio was very thinly sliced beef that just melted in your mouth. It wasn't served with any additional bread besides what was served to the table (and they happily brought over an extra basket). The meat itself had shockingly little flavor. All the toppings, while good, where mild tasting. The carpaccio was surprisingly bland. This is the first time I've had it, so perhaps that's how it's supposed to be.
Agnolotti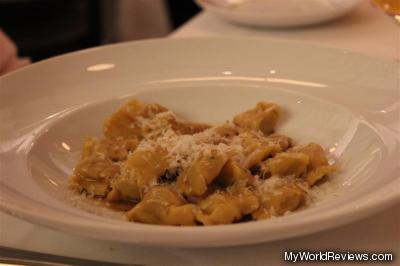 Agnolotti
with brown butter & Parmigiano
The agnolotti was a simple pasta dish that was full of flavor. The pasta was filled with a mix of meats that were nicely spiced. This serving size was perfect as the filling was a bit heavy.
Glazed Duck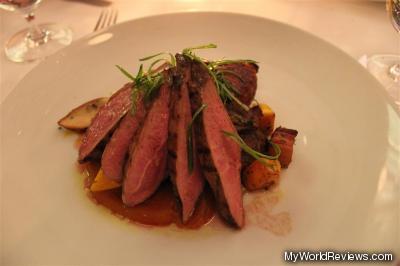 Glazed Duck
with Shiitakes, Charred Scallions, Pancetta & Persimmon
The sauce on the duck was amazing. I'm quite a fan of sweet sauces on ducks, but the persimmon sauce was a new twist I've not tried before. The slices of duck meat were perfect. There was also a leg on the other side which I didn't care for as it was very fatty meat and tricky to eat.
review contents
Dress
Cost
Reservations
Items Ordered
Roasted Beets
Carpaccio
Agnolotti
Glazed Duck
related reviews
More reviews in New York, NY
Been here? Want to write your own review of this restaurant?