Your Reviews About the World
MyWorldReviews.com
Let the world know what you think
Mamoun's Falafel
New York, New York, United States
22 St. Marks Place
New York, New York, United States
10003-8022
mamounsfalafel.com
View Map
Overall Experience:
6 / 10
Date Visited:
Thursday, September 4, 2008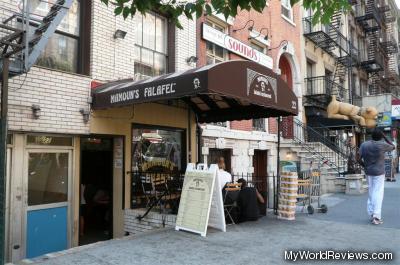 Mamoun's Falafel
Mamoun's Falafel is a great little falafel shop offering cheap falafels. They have a couple locations around New York City. This location on St. Marks Place has a couple indoor and outdoor seats, but most people order their food to take out.
Dress
Very casual
Cost
$2.50 for a falafel sandwich
Service
There is usually a line. When you make your way to the front, order, pay, and then stand around for a minute until your sandwich is ready. They call out what it is, so be listening!
Items Ordered
Falafel Sandwich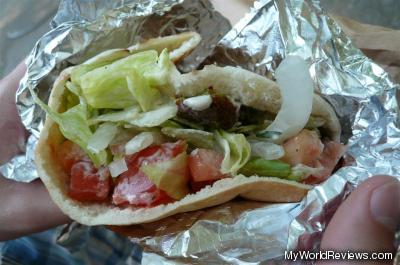 Falafel Sandwich
At only $2.50, this falafel sandwich is quite a bargain. It's not very big, and it doesn't have much falafel in it, but it is quite affordable. The falafel pita contains some salad items, and there's probably one or two falafels in it. They are flattened and sliced up, so it's difficult to tell how many you get.
review contents
Dress
Cost
Service
Items Ordered
Falafel Sandwich
related reviews
More reviews in New York, NY
Been here? Want to write your own review of this restaurant?