Your Reviews About the World
MyWorldReviews.com
Let the world know what you think
Magnolia Bakery
New York, New York, United States
401 Bleecker St
New York, New York, United States
212-462-2572
magnoliacupcakes.com
View Map
Overall Experience:
6 / 10
Date Visited:
Monday, September 15, 2008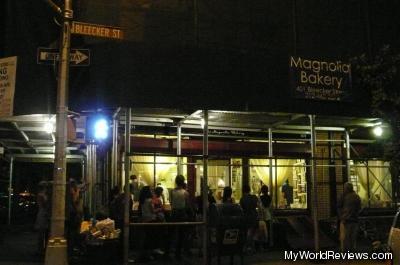 Magnolia bakery is a little bakery on the corner of Bleecker and West 11th street in the West Village in NYC. They were made famous by a product placement in Sex and the City. Now there are line ups around the corner of people waiting to get into this tiny shop to buy cupcakes. It's a bit of a mad house in there once you do get in with lots of disorganization.
The food is quite good and decently priced. Magnolia would probably have received a 7 rating if it weren't for the lineup and disorganization.
Dress
Very casual.
Cost
Prices are pretty usual for this area. Most cupcakes are $2.50.
Service
The bakery is really small, there is no indoor seating. Once you get in the store there is a self-service cupcake station where you can choose what you want. There is also a counter where you can make requests for other items. Once you have everything you want, pay at the checkout counter.
Items Ordered
Cupcakes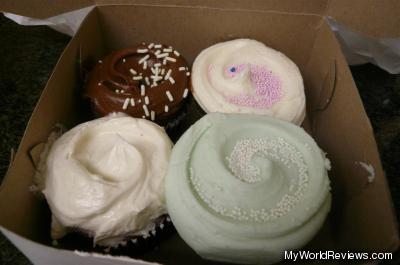 An assortment of cupcakes
Most cupcakes are $2.50. Special cupcakes can have special prices. The red velvet cupcake (shown here at the bottom left) was $3. The cupcakes were pretty good, but small. The regular icing wasn't the best. It was very hard and too sweet. The red velvet cupcake was definitely the best with a soft creamy icing.
review contents
Dress
Cost
Service
Items Ordered
Cupcakes
related reviews
More reviews in New York, NY
Been here? Want to write your own review of this restaurant?