Your Reviews About the World
MyWorldReviews.com
Let the world know what you think
Mad Dog & Beans
New York, New York, United States
83 Pearl Street
New York, New York, United States
10004
(212) 269-1177
www.maddogandbeans.com
View Map
Overall Experience:
6 / 10
Date Visited:
Sunday, August 8, 2010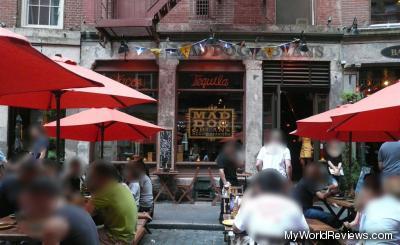 Mad Dog & Beans
Seating:
Outdoor picnic table
Mad Dog & Beans is a Mexican restaurant on New York's historic Stone Street. It's a great place to sit and eat outside when the weather is nice. The street is filled with restaurant tables and is far from any traffic.
The food here was average Mexican food. They offered typical Mexican dishes at slightly higher than average prices. The portions are fairly large.
Dress
Casual
Cost
Most entrees are $15-$20
Reservations
The outdoor area can be very busy after work on a weekday, but wasn't very busy early in the evening on a weekend.
Items Ordered
Guacamole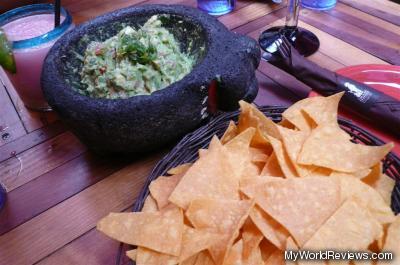 Guacamole
Made to order in a stone molcajete, served chunky style, mild, medium, or spicy
They have a great spicy guacamole. It wasn't very spicy, but added a nice bit of flavor. There was enough guacamole and chips to share between three to four people.
Tacos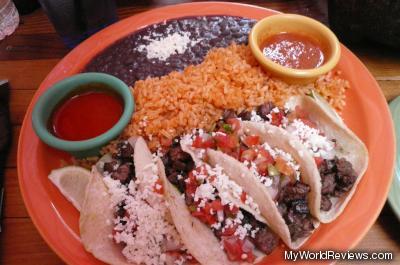 Tacos
Four tacos served with fresh homemade tortillas, Mexican rice & beans
Cost:
$14 for chicken $16 for steak
We ordered both chicken and steak tacos. They were both very similar. The chicken was a bit dry, and the steak was a bit tough. The fillings in the tacos included fresh chopped tomatoes, and feta cheese, which I thought was unusual, but ok. The rice was plain, but the beans were tasty. The salsas were both fairly mild.
review contents
Dress
Cost
Reservations
Items Ordered
Guacamole
Tacos
related reviews
More reviews in New York, NY
Been here? Want to write your own review of this restaurant?