Your Reviews About the World
MyWorldReviews.com
Let the world know what you think
M. Wells Diner
Long Island City, New York, United States
21-17 49th Ave.
Long Island City, New York, United States
11101
718-425-6917
mwellsdiner.com
View Map
Overall Experience:
5 / 10
Date Visited:
Saturday, July 23, 2011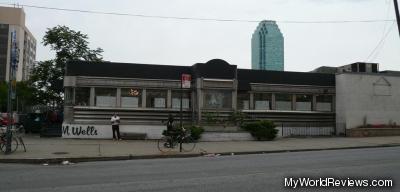 M. Wells Diner
We visited M. Wells Diner on a hot saturday for brunch. There was a 45-minute wait when we arrived around 1pm. Space was a bit cramped when we were seated, but that's to be expected from a place like this that is currently popular. The food was all quite greasy, but fairly tasty. The best word to describe it is 'creative'. They didn't have any typical items, so expect to be surprised.
Dress
Fairly casual
Cost
Brunch items were around $8-$20. Dinner items were a bit more expensive.
Reservations
Reservations are not accepted
Items Ordered
Spaghetti Bolognese Sandwich
Spaghetti Bolognese Sandwich
The spaghetti sandwich sounded very creative. It was pretty good, too! The spaghetti was formed into a patty shape and fried, so it looked like a chicken schnitzel sandwich when it came out. The spaghetti was mixed with (and topped with) a tomato sauce, which made it quite messy to eat. The spaghetti also tasted lightly seasoned. It had a nice flavor.
Egg Tomato Pot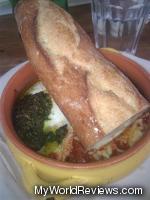 Egg Tomato Pot
Baked egg in tomato stew
The egg tomato pot was fairly simple. It consisted of a small pot of tomato sauce that had an egg boiled inside it. It was topped with pesto, melted cheese, and a piece of a baguette. The ingredients didn't seem to create any special tastes when combined. It tasted just like you would expect if you mixed egg, tomato sauce, pesto, and cheese.
review contents
Dress
Cost
Reservations
Items Ordered
Spaghetti Bolognese Sandwich
Egg Tomato Pot
related reviews
More reviews in Long Island City, NY
Been here? Want to write your own review of this restaurant?