Your Reviews About the World
MyWorldReviews.com
Let the world know what you think
Lugano 2 For 1 Pizza
Burlington, Ontario, Canada
355 Brant Street
Burlington, Ontario, Canada
L7R 2E7
905-637-7474
View Map
Overall Experience:
7 / 10
Date Visited:
Friday, December 21, 2007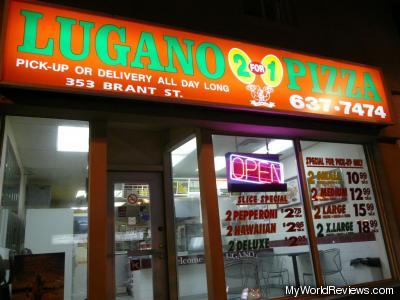 Lugano's is a pizza restaurant located in downtown Burlington. They offer take-out in addition to walk-in orders. One of the best deals is their "pizza by the slice". You can purchase 2 slices of pepperoni pizza (shown here) for only $2.75.
The restaurant itself offers very limited seating (there is occasionally one small table inside). Their walk-in business is really limited to the teen crowd, and "after-bar" patrons who are looking for some pizza after visiting nearby drinking establishments.
Lugano's isn't really a "high class" place, but their pizza is quite good. If you're in the area, stop by, place your order, and you'll be out of there shortly. Their walk-in business is quite brisk, so there may be a short line. Since they have so many walk-in customers, the pizza you get will usually be very fresh.
Although Lugano's does have a number of diverse toppings (Italian Sausage, Broccoli, Pineapple, etc), if you're purchasing pizza by-the-slice, they will probably only have Pepperoni available.
In the past, Lugano's was known for their operating hours - almost any time of day or night when you wanted a pizza, they were open. However, recently, I think they've been cutting back their hours slightly. If it's late (after midnight), you may want to call ahead to make sure they're open.
Cost
Part of the reason Lugano's is so great is that they're affordable. 2 slices for only $2.75 is quite a deal (even though they are fairly small slices)
Parking
There is street parking nearby, although it's limited. Depending on the time of day, you may just want to drop someone off, circle the block, and pick them up with the pizza.
Service
Service at Lugano's is what it needs to be - quick and painless. Just place your order, get your pizza, pay, and move on!
Items Ordered
Two slices of Luganos Pepperoni Pizzaa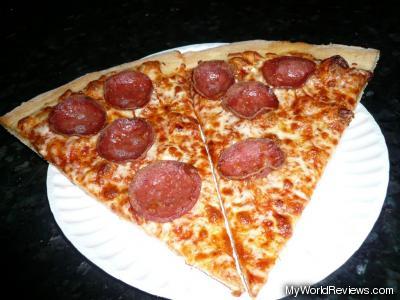 Two slices of pepperoni pizza
Pepperoni Pizza is Lugano's primary walk-in product. The two slices shown here were part of the 2-for-1 walk-in deal. The tomato sauce is delicious, and they don't overdo it. The sauce has a very slight amount of sweetness to it, and a little bit of spice. It's really the ideal pizza sauce. The cheese and pepperoni are just what you'd expect on a pizza. The crust is fairly thin and dry, although the cheese and pepperoni do make the pizza fairly oily.
review contents
Cost
Parking
Service
Items Ordered
Two slices of Luganos Pepperoni Pizzaa
related reviews
More reviews in Burlington, ON
Been here? Want to write your own review of this restaurant?