Your Reviews About the World
MyWorldReviews.com
Let the world know what you think
Lounge 47
Long Island City, New York, United States
4710 Vernon Blvd
Long Island City, New York, United States
11101
718-937-2044
View Map
Overall Experience:
4 / 10
Date Visited:
Tuesday, July 29, 2008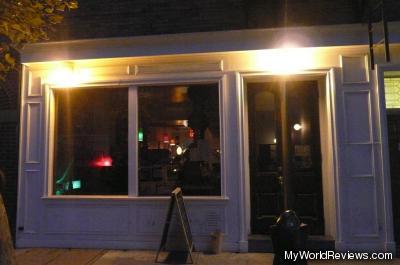 Lounge 47 is a restaurant and bar in Long Island City. They have a pretty small menu featuring salads, burgers, and appetizers. Their sign outside is just a small label on the window.
They have a really nice backyard patio. The backyard patio looks like it could be someone's personal backyard. It is nicely landscaped with a waterfall and gravel paths. Unfortunately, it was far too hot and muggy to sit there when we visited. We opted for the air conditioned indoors that was also smoke-free (unlike the patio).
Cost
Prices are pretty average - $8.50 for a burger or salad.
Dress
Very Casual - shorts and a t-shirt are fine.
Items Ordered
Greek Country Salad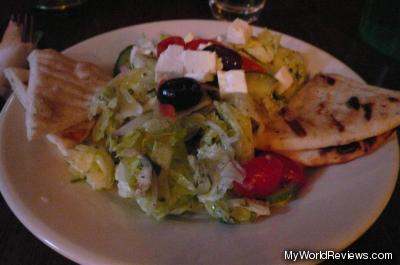 Greek Country Salad
Served with grilled pita bread and topped with crumbled feta.
The salad had a different taste to it. The dressing tasted very mild and the flavour of dill stood out above everything else. The salad was mostly lettuce with a few pieces of tomatoes and cucumbers. I thought the olives tasted a bit strange, I'm not sure why, maybe they came from a can. The toasted pita bread on the side was really good.
47 Burger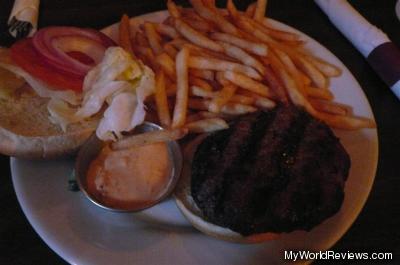 47 Burger
Perfectly grilled all-beef burger with an optional side of spicy chipotle mayo.
Ironically the burger was not perfectly grilled. I ordered the burger well-done, but it was served burnt. Perhaps they took the request for well-done a little too far. Having a burnt burger really ruined the experience. The fries however, were pretty good. They were thin, crispy on the outside, and soft on the inside.
review contents
Cost
Dress
Items Ordered
Greek Country Salad
47 Burger
related reviews
More reviews in Long Island City, NY
Been here? Want to write your own review of this restaurant?