Your Reviews About the World
MyWorldReviews.com
Let the world know what you think
Lomzynianka
New York, New York, United States
646 Manhattan Ave.
New York, New York, United States
11222
718-389-9439
lomzynianka.com
View Map
Overall Experience:
5 / 10
Date Visited:
Saturday, October 8, 2011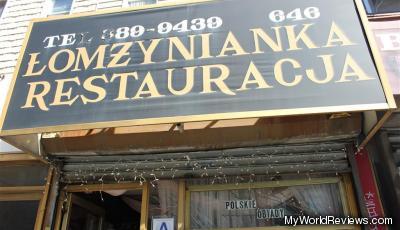 Lomzynianka
Lomzynianka Restauracja is a Polish restaurant in Greenpoint, Brooklyn, NYC. They offer typical polish cuisine such as pierogies, soups, blintzes, cabbage rolls, and a number of meats. All the items we ordered were OK, and in typical Polish fashion, were uncomfortably heavy.
The restaurant does not offer beer, but there is a convenience store across the street that does and the restaurant will provide glasses for you.
Dress
The restaurant is very casual.
Cost
Fairly cheap - you can get a decent meal for $6
Service
The waiter was friendly enough, and they spoke reasonable english.
Items Ordered
Red Borscht and Dumpling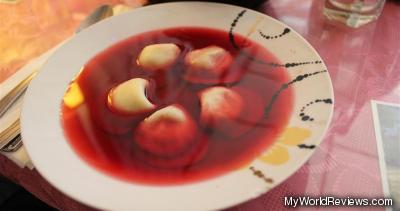 Red Borscht and Dumpling
Available without dumplings for $2
The red borscht was a clear beet broth. That was a bit different than what I've had previously, and in my opinion, not as good. The broth was quite sweet and a bit acidic. The dumplings had a tasty mushroom filling that was pretty good.
Pierogies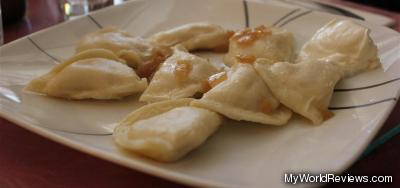 Pierogies
Potato and Cheese - Boiled or Fried. Other fillings were also available.
I ordered the pierogies boiled. They were reasonable pierogies, although nothing special. They came with a bit of sour cream on the side, and a couple small pieces of onion. Ideally they would have had more onion and butter, but I guess every place has their own way to prepare pierogies.
Potato Pancakes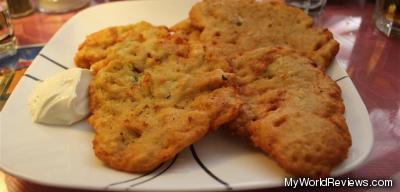 Potato Pancakes
Also available as 'hungarian pie' for $9
The potato pancakes were served in a fairly large portion with four pancakes. They tasted like grated potato, possibly mixed with some egg, that had been deep fried. They were tasty, but very, very heavy. It was hard finishing just one of them.
Polish Platter
Polish Platter
3 pierogies, kielbasa, stuffed cabbage, bigos, potatoes
The polish platter was a good way to try a variety of items. The cooked kielbasa was fantastic, and the cabbage roll was pretty good. The potatoes were very plain, and the pierogies (fried) were also good but not the best I've had.
review contents
Dress
Cost
Service
Items Ordered
Red Borscht and Dumpling
Pierogies
Potato Pancakes
Polish Platter
related reviews
More reviews in New York, NY
Been here? Want to write your own review of this restaurant?