Your Reviews About the World
MyWorldReviews.com
Let the world know what you think
Locanda Verde
New York, New York, United States
377 Greenwich Street
New York, New York, United States
10013
(212) 925-3797
www.locandaverdenyc.com
View Map
Overall Experience:
7 / 10
Date Visited:
Wednesday, August 4, 2010
Seating:
Outdoor Sidewalk Table
Locanda Verde is a popular Italian restaurant in Tribeca. It's fairly nice inside with brick walls and high ceilings. The restaurant was very noisy inside. It was not a bad location to sit outside with it being on a quieter street than midtown. The food was great - everything we ordered was excellent.
Dress
Business casual - jeans and a nice shirt would be fine
Cost
Pastas are around $20, entrees are close to $30
Service
Our waiter was very nice. He brought us extra bread when we asked for it, free of charge. The hostess seemed a little less than friendly. When we were told about the long wait inside, and there were several empty tables outside, we asked to sit outside. She rudely said that she would have to go through the list to see if anyone wanted to sit outside before seating us a few minutes later.
The service was leisurely. There was lots of waiting time between courses.
Reservations
The restaurant is often very busy. Reservations are recommended if you don't want to wait, but they may be hard to get.
Items Ordered
Crostini - Sweet Corn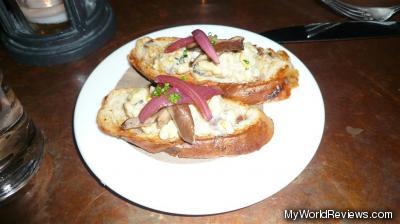 Crostini - Sweet Corn
Sweet Corn with smoked shiitake on prosciutto bread
This appetizer was small but full of flavors. The topping had a strong smokey flavor and a very sweet corn.
Antipasti - Local Tomatoes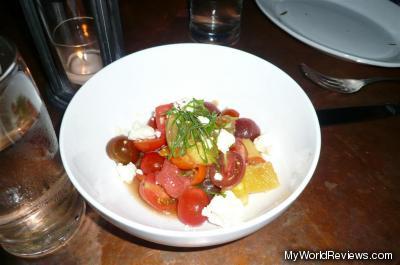 Antipasti - Local Tomatoes
Local Tomatoes with watermelon and smoked ricotta from abruzzi
This was a great salad. The combination of tomatoes and watermelon went surprisingly well. There was a bit of sourness in the sauce that was just so yummy. We asked for extra bread to soak up all the sauce left in the bowl.
Pasta - Trofie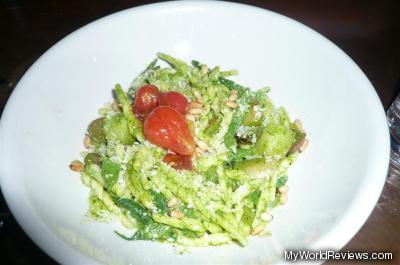 Pasta - Trofie
Trofie with basil pesto, gaeta olives and parmigiano-reggiano
I've never had this type of pasta before. It was a fun shape, like little squiggles. There were quite a few pieces of fresh vegetables in the pasta (green beans and snap peas). The pesto was good and fresh tasting.
Wood-Fired Pork Chop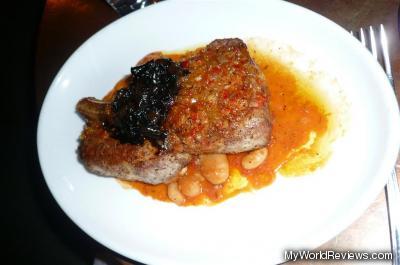 Wood-Fired Pork Chop
Wood-Fired Pork Chop with fagioli stufato, peperoncini and aceto onions
This was a big piece of meat. It was a bit too salty, but had a nice sweet sauce on top. The meat had a crispy exterior. It was served on lima beans and some sauce.
Chocolate-Pistachio Tart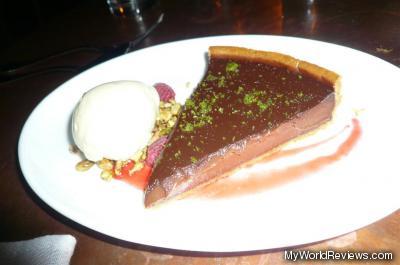 Chocolate-Pistachio Tart
raspberries, pistachio gelato
The tart had a rich chocolate mousse and a hard crust. The gelato tasted plain, but was sitting on top of pistachios.
review contents
Dress
Cost
Service
Reservations
Items Ordered
Crostini - Sweet Corn
Antipasti - Local Tomatoes
Pasta - Trofie
Wood-Fired Pork Chop
Chocolate-Pistachio Tart
related reviews
More reviews in New York, NY
Been here? Want to write your own review of this restaurant?