Your Reviews About the World
MyWorldReviews.com
Let the world know what you think
Links on Tap Bar and Grill
Jamaica, New York, United States
JFK Airport
Jamaica, New York, United States
View Map
Overall Experience:
5 / 10
Date Visited:
Friday, December 7, 2007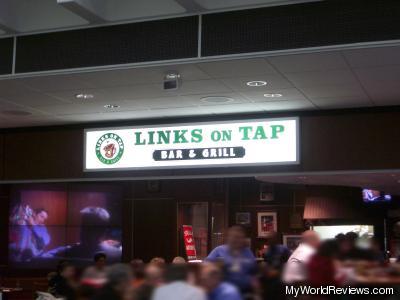 Links on Tap is a restaurant located in Terminal 2 of the JFK Airport in New York. It is located in the food court, near gate 21. It is a typical grill, serving typical bar food. The quality is a bit higher than most typical airport fast food, but it's still not a place where you think "Wow, that was a great meal; what value!"
This is a sit-down restaurant, so if you're just passing through the terminal on the way to your gate, this probably isn't the best choice.
Reservations
This restaurant is in an airport, past the security checkpoint. Just walk in.
Dress
Since it's an airport, there are really no dress standards to speak of. People are wearing everything from suits to Hawaiian shirts and flipflops.
Items Ordered
The Monster Burger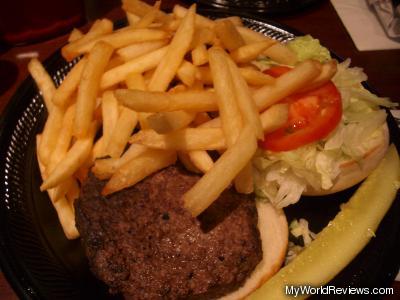 The Monster Burger
A juicy 1/2 pound USDA ground beef patty topped with lettuce, ripe tomato, and red onion on a roll.
Cost:
$11.29, or $12.29 with cheese
This hamburger arrived approximately 10 minutes after it was ordered - I was impressed with their speed. It was of an acceptable quality. The beef patty itself was quite thick and tasty. It was served with some shredded lettuce, and a single slice of tomato. The fries were also quite bland, and were served cold. It felt like they had been sitting for some time.
Overall, this hamburger wasn't worth the money, but in an airport, your choices are limited.
Service
I was actually quite pleased with the service I received. The waiter was prompt, and even brought out an extra plate (since this hamburger was being shared between two people).
review contents
Reservations
Dress
Items Ordered
The Monster Burger
Service
related reviews
More reviews in Jamaica, NY
Been here? Want to write your own review of this restaurant?