Your Reviews About the World
MyWorldReviews.com
Let the world know what you think
Lederhosen
New York, New York, United States
39 Grove Street
New York, New York, United States
10014-5316
212-206-7691
www.lederhosennyc.com
View Map
Overall Experience:
7 / 10
Date Visited:
Friday, June 4, 2010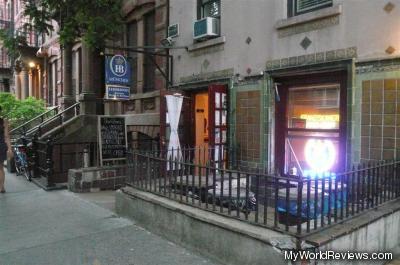 Lederhosen
Lederhosen is a German restaurant and beer house located in the west village of NYC. They have a large selection of German style beer, tasty German food, and German-speaking waiters. My biggest complaint about the restaurant is that there was no air conditioning. We visited on a very hot day, and the restaurant was even hotter than outside. Our entire group was drenched in sweat by the time we left. Still, the food was tasty and affordable - I would go back here.
The atmosphere was also quite neat - everyone was very laid back. There were groups of people playing cards at their table. The restaurant is located on the basement level of a building on Grove Street, and has a quaint feeling.
Dress
Very casual
Cost
Most appetizer items are around $5, entrees are around $17, and most beers are $7 for a half liter.
Reservations
Reservations are accepted for groups of 4 or more. We were lucky to get a table immediately when we visited (around 8pm on a Friday).
Items Ordered
Kartoffelpurffe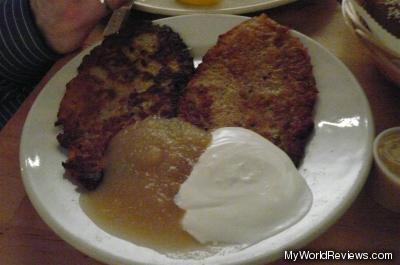 Kartoffelpurffe
Kartoffelpurffe potato pancakes with apple sauce & sour cream
There isn't much to Kartoffelpurffe - it consists of grated potato formed into a pancake that is nicely fried. It is served with apple sauce and sour cream. Fried potatoes are delicious, and the Kartoffelpurffe was no exception.
Zigeunerschnitzel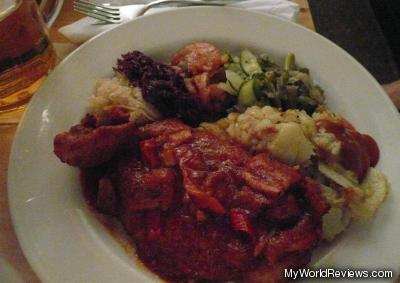 Zigeunerschnitzel
Wiener Schnitzel your choice between breaded chicken, pork or veal cutlet. All schnitzels served with german fried potatoes, red cabbage & sauerkraut, cucumber & stringbean salad. Choose from Zigeunerschnitzel (in spicy tomato pepper sauce), Jagerschnitzel, or Schnitzel.
I have never tried a Zigeunerschnitzel before, and picked it mainly due to its humorous name. It was delicious, and came on a plate with a number of other items. The Zigeunerschnitzel, which was available as chicken, pork, or veal, had a nice spicy sauce on it and was topped with bell peppers. It was served with a number of pickled salads, beet salad, and potatoes. The potatoes also had a nice spicy sauce on them.
Bratwurst and Bratkartoffeln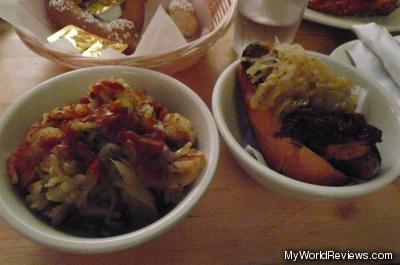 Bratwurst and Bratkartoffeln
Bratwurst - grilled german style pork sausage. Bratkartoffeln - Side of German fried potatoes
The Bratkartoffeln were the same delicious potatoes that came with the Zigeunerschnitzel. Yum! They also had the spicy sauce on them. The Bratwurst was a delicious sausage. It had a very nice flavor without being spicy. It was served in a bun, topped with red cabbage and sauerkraut.
review contents
Dress
Cost
Reservations
Items Ordered
Kartoffelpurffe
Zigeunerschnitzel
Bratwurst and Bratkartoffeln
related reviews
More reviews in New York, NY
Been here? Want to write your own review of this restaurant?