Your Reviews About the World
MyWorldReviews.com
Let the world know what you think
Le Pescadeux
New York, New York, United States
90 Thompson St
New York, New York, United States
10012
(212) 966-0021?
www.lepescadeux.com
View Map
Overall Experience:
7 / 10
Date Visited:
Saturday, August 28, 2010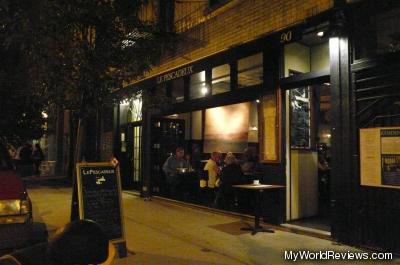 Le Pescadeux in SoHo
Le Pescadeux is a Quebecois french restaurant located in the SoHo neighborhood of New York City. The restaurant has one wall that opens to the street. The food was mainly seafood, with some meat entree options.
Dress
Casual - jeans or shorts and a nice shirt are fine
Cost
Most entrees are $20-$25.
Reservations
We had made reservations online for a Saturday evening. Throughout the evening there were only a few small tables open. Reservations are recommended for a group larger than 2.
Items Ordered
Shrimp Special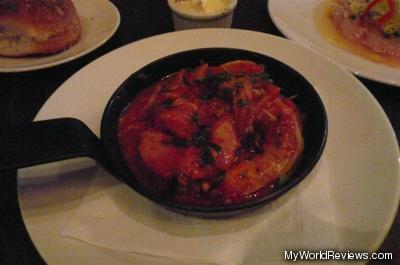 Shrimp Special
The appetizer special of the day was shrimp in a hot tomato salsa. I have usually had shrimp in a garlic oil sauce, and this was different and unique. There was a bit of spice to it and more flavor.
Poutine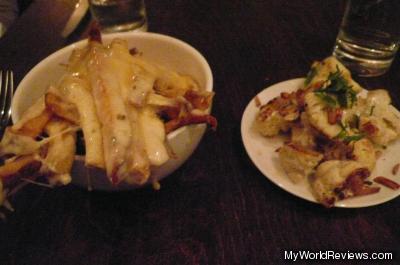 Poutine and Cauliflower
The poutine here was excellent. The fries were covered in melted cheese and had gravy poured on at the table. The fries would have been good on their own, but they also made for a great poutine.
Cauliflower
Roasted Cauliflower, toasted almonds
The side of cauliflower was mostly just roasted cauliflower with a bit of a nutty taste from the almonds.
Fish Duet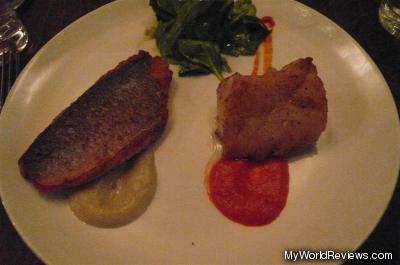 Fish Duet
Choose 2 1/2 orders
The fish were mostly bland, with a bit of a crispy outer layer. The sauce they came on gave them a slight variety and different tastes. Neither one was especially flavorful, but I usually find fish quite bland.
Fish 1: Crisped Dorado Royale, Fennel Puree
Fish 2: Spice Marinated Cod Red Pepper Coulis
review contents
Dress
Cost
Reservations
Items Ordered
Shrimp Special
Poutine
Cauliflower
Fish Duet
related reviews
More reviews in New York, NY
Been here? Want to write your own review of this restaurant?