Your Reviews About the World
MyWorldReviews.com
Let the world know what you think
Le Pain Quotidien
New York, New York, United States
81 West Broadway
New York, New York, United States
10007
646-652-8186?
www.lepainquotidien.com
View Map
Overall Experience:
8 / 10
Date Visited:
Sunday, February 14, 2010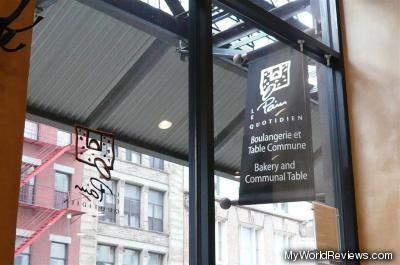 Le Pain Quotidien in Tribeca
Le Pain Quotidien is a chain cafe with several locations in New York City. The cafes have a communal table as well as small tables for groups of 2 to 4. The menu includes baked goods, soups, salads, and sandwiches.
Dress
Casual
Cost
Sandwiches and salads are around $10-$15.
Service
Although the restaurant has the feel of a casual cafe, the tables are all waited on.
Items Ordered
Hot Chocolate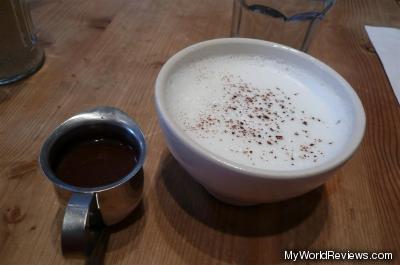 Hot Chocolate
The hot chocolate comes in two parts - hot frothed milk and melted chocolate. You get to pour the melted chocolate into the milk and stir. The hot chocolate was smooth and foamy, and not too sweet.
Soup of the Day - Corn Chowder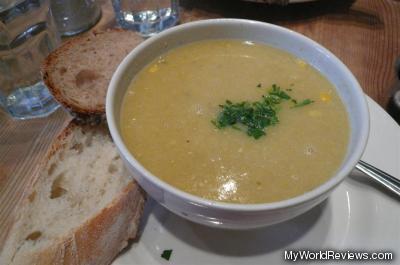 Corn Chowder
The corn chowder was not a very thick soup. It was mostly liquid with a few pieces of corn. It was a tasty broth with a nice corn flavor.
Mozzarella di Bufala & Plum Tomatoes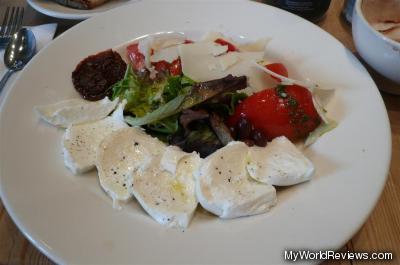 Mozzarella di Bufala & Plum Tomatoes
with shaved Parmesan and organic olive oil (690 cal). Served with an assortment of our organic breads.
This specialty plate is a delicious combination of excellent mozzarella cheese, tomatoes, parmesan cheese, a bit of lettuce, and a drizzle of olive oil and herbs. The mozzarella is the best I've tasted anywhere in North America. It has the same kind of moist, rich flavor that bufala mozzarella has in Italy.
Croissant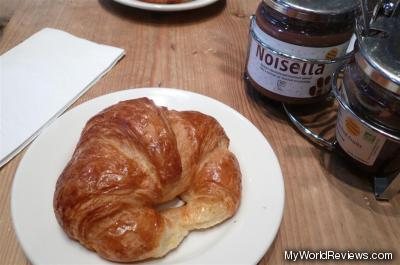 Croissant
The restaurant has various spreads you can use to spread on your bread or pastries. One of the best ways to eat a croissant at Le Pain Quotidien is to spread chocolate-hazelnut on it.
review contents
Dress
Cost
Service
Items Ordered
Hot Chocolate
Soup of the Day - Corn Chowder
Mozzarella di Bufala & Plum Tomatoes
Croissant
related reviews
More reviews in New York, NY
Been here? Want to write your own review of this restaurant?